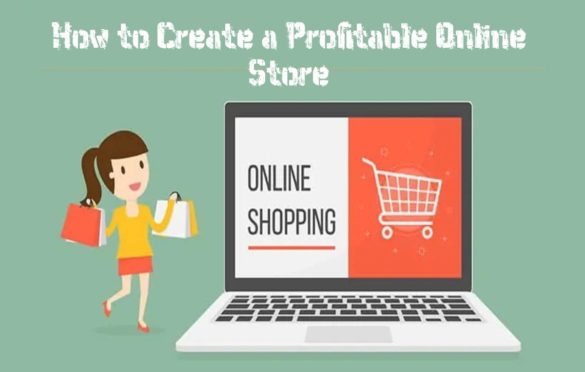 How to Create a Profitable Online Store
It's not surprising that people are looking at creating online stores because eCommerce's future seems excellent. Furthermore, it's a great way to get that extra dime in your pocket without getting out of your house. However, it would be best to know that creating an online store requires some hard work because there are numerous steps and decisions that you need to put together to bring it to life. To help, here is a comprehensive blueprint on how to create a profitable online store.
A lot of weight goes into creating and running a successful online store. However, using eCommerce platforms can take care of much of the heavy lifting for a more satisfactory outcome. Such platforms have a product table that helps ensure that your online store is user friendly and more effective because customers can browse and purchase products from your store directly in one convenient location. Creating a new online store can be nerve-racking for most entrepreneurs. Getting the right eCommerce platform on your side means you have won half the battle.
What is BigCommerce?
Bigcommerce is a hosted and licensed eCommerce platform. It is a functional eCommerce platform with beautiful templates and a great pricing structure. The platform is a SaaS (Software as a service) product that powers thousands of medium and small enterprises and some large companies like Toyota, Sony, and Ford, and it's accessible online. The "headless" commerce approach is what sets bigcommerce WordPress from other eCommerce services. It means that its presentation layer is decoupled or separate from the eCommerce layer.
Though the standard grid display format adds to the store's visual appeal, it's not the best option for online stores with more than a few products to display because it takes up a lot of screen space. When the displayed products are in a product table, it becomes easier for users to find and compare product details. Anyone who has numerous products and is looking for an intuitive and user-friendly method to showcase they can benefit from big goods commerce.
Tips on How to Create a Profitable Online Store
1. Find a Niche
Before you set up your online store platform, the first step is to find the right product that offers excellent potential for generating income. You should conduct thorough research on the different niches.
2. Evaluate the Viability of the Market
Now that you have the right product and business idea under your belt, it's time to go deeper into a product's viability. There is no use in having a product that won't sell or one that won't earn profits. It would help if you examined all kinds of details that can affect your endeavor's success or failures, such as shipping weight and SKUs. Conduct thorough market research to validate your product. You can use tactics such as evaluating the trend of the product and keyword research.
3. Conduct Competitive Analysis
The online market is quite competitive, and to make it, you should know what's working for your competitors and what you can improve upon. It can give you a clue on how to position your brand in the market.
4. Know More About Online Business Laws
Online business laws include trademark consideration, zoning laws, and shopping restrictions. These can be the glue to making or breaking your business. With the right information, you can avoid eCommerce danger points that can put a stop to your business before it's off the ground.
5. Analyze your Target Market
You will need to go to great lengths to understand your ideal potential shopper. If you know who and how they think can help you build a website and product for your perfect shopper's ultimate satisfaction.
6. Source your Product
You have the right product, and you know your customers. You now need to get the physical product. There are various methods you can source your products, and you will need to dig deeper to get one that works best for you and your customers.
7. Choose the Right Ecommerce Platform
An e-commerce platform is perhaps the most crucial aspect of a profitable online store. The reason is that all the above will not matter if you do not have a functioning eCommerce store to sell the products. Using powerful eCommerce software, you can build a fantastic website for an extraordinary shopping experience to make your customers want to come back.
8. Launch your Store
With the right product and product, you are now ready to get your products to your customers. You will need to understand search engines and how to manipulate them to your interests. You will need to write captivating content, shoot beautiful photos of your product as well as make your website inviting.
9. Driving Traffic to your Website
Your hard work begins after launching, where you need to market your product. You can use top-notch marketing tactics to acquire and expand traffic to your website and convert traffic to sales.
Conclusion
Creating a profitable online store is just as challenging as it is exciting.
You will need to learn all the essentials of building and running an online store rapidly. However, the results of this hard work can be gratifying.
KNOW MORE:- fitnessjobb
Check out: Ecommerce Write For Us, Guest Post, And Contribute, Advertise with us, Submit Post.