Write For Us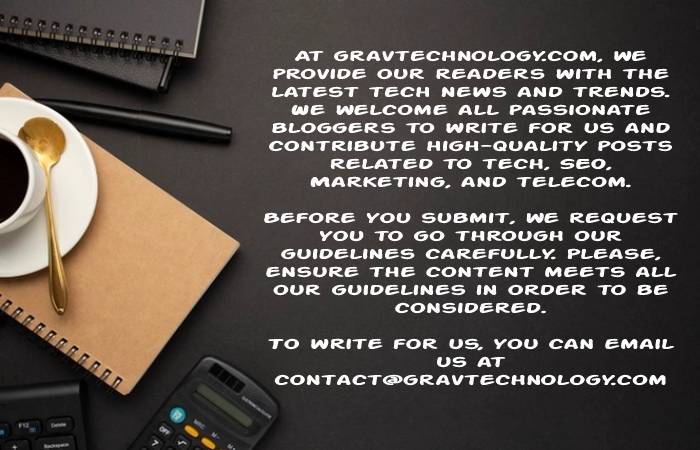 At gravtechnology.com, we provide our readers with the latest tech news and trends. We welcome all passionate bloggers to write for us and contribute high-quality posts related to tech, SEO, Marketing, and telecom.
Before you submit, we request you to go through our guidelines carefully. Please, ensure the content meets all our guidelines in order to be considered.
To write for us, you can email us at contact@gravtechnology.com
Topics For Technology – Grav Technology Write For Us
Nanotechnology
Data Integration
Artificial Intelligence
Robotics
Cloud Computing
Cyber Security
Science and Technology and many more.
Categories and Topics we welcome
Thanks for your interest in writing for gravtechnology.com.
You can write an article on the following categories.
Technology
Business
Marketing
SEO
IoT (Internet of Things)
Telecom
Artificial Intelligence
Gadgets, etc.
Hardware
Software
Note: We do not accept links to any sort of gambling and adult websites.
Guidelines for Guest Writers
Here are some essential guidelines that a contributor should follow while contributing an article to contact@gravtechnology.com
The article should be at least 700 words and should be unique.
Please check the plagiarism ahead of sending it to us.
Content must contain subheadings and proper alignment.
Image with Copyrights and the size should be 1200 X 800 pixels
We appreciate it if you avoid grammatical mistakes by checking the content on Grammarly.
Make sure that the article you write should be related to the categories mentioned above.
We neither accept nor encourage content related to gambling or adult sites.
How to Submit your Article?
Once your article fits all our guidelines, you can send it to contact@gravtechnology.com.
Requirements you need to send:
You must send the "article Title and Body in word doc."
High-quality Image with resolution 1200 x 800.
Links of your social channels.