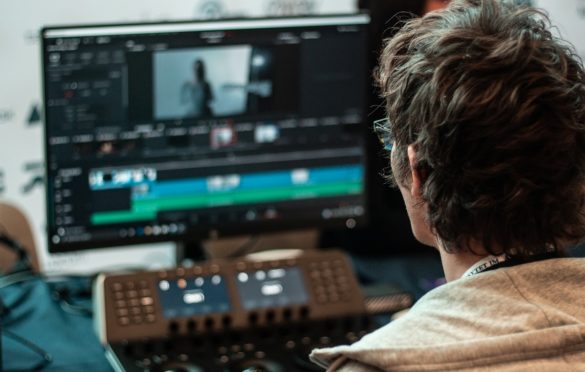 How To Choose A Video Editor Software For Your Youtube Channel
If you are a budding content creator or an up and coming business, you already understand the need for coming up with engaging and creative visual content. With social media algorithms these days tailor-made to promote videos more than any other form of content, the onus has shifted onto you to come up with some great and presentable videos. When you are sitting down to make a video, doing proper research for the information and visualising the final presentation is only the job half done. The other half lies in editing the video. If you're a beginner, then you should use InVideo.
Effective video editing software is more important to the entire process of content creation than what meets the eye. While collating information onto the video helps you realise the message you want to achieve with the video, editing helps you build and polish the narrative. If done right, editing possesses the ability to leverage even average subject matter into an extremely attractive and eye-grabbing form. In order to go about video editing, you must first start by looking for a video editor software that best suits your needs. Every software has its own unique set of features that set them apart from one another. However, at the core of every effective video editor software is a bunch of features that extend to all. The following tips are listed to guide you towards choosing the best video editor software.
Video Caddy video editing service professionals deliver a lot more than post-production support. A leading video editing team in India believes in enabling its clients with a seamless and profitable outsourcing experience.
Budget:
As someone who is just starting out with video editing and wishes to acquaint themselves with the basic know-how, one should be really careful with their budget before they invest in a video editing software. Knowing your project demands and requirements is a very handy parameter that one should keep in mind before closing in on their purchase. Often beginners commit the mistake of buying extremely expensive software, tempted by the extensive range of features on offer, only to have no use for them later on.
The most basic and budget-friendly video editor softwares offer you a range of features that allow you to make video presentations for university and workplace purposes. With a little bit of an effort, you can compose and roll out really engaging creative content as well. So, in case your operations are limited to just these, a low budget video editor software does it for you. However, if you are serious about film making and want to make high production videos, then you are better off investing in a high-end software which has a much more expansive features suite.
User- Friendliness:
The last thing that you would want after purchasing a software is spending weeks and weeks trying to figure out how it works. Not only is this terribly time consuming but also highly unproductive. In general, most video editor softwares are a little tough to figure out at first because they pack with them a vast array of diverse features. However, the best video editing softwares out there have dozen-odd pre-existing editing templates and auto modes to help you get started right away.
Additionally, the credible softwares also come with a ton of tutorials with them which a new user can refer to for greater clarity. Most people use video editing softwares for basic sequencing and stitching purposes. As an extra measure, people teach themselves on how to sync audio with video as well. Picking up these skills does not take much time and a few hours of tutorials are enough to equip oneself with these editing manoeuvres. However, for more complicated operations, one needs to go the extra mile and spend more intensive hours with the tutorials and experiment with the various modes to get the hang of the software.
Video Format Support:
This is perhaps the most important parameter that you should look out for before you decide to go scouting for a video editor software. Your software will be of no use to you if it fails to support the format of the video that your camera outputs. This is made tougher by the fact that video file quality and formats are evolving with every passing day. No one software supports all the available formats out there, and hence you must be careful to pick up the software that best suits your needs. Additionally, you should also take care that your system is capable of handling all the processing wear and tear that you wish to put it under.
Additional Features and Effects:
The prospect of including special effects and other attractive, visually pleasing transitions in their videos excites every content creator out there. However, you must realise that the most basic video editing softwares out there lack all of these additional features. Often people fail to realise their original visualisation during the production process because they are unable to get hold of the appropriate editing software that meets their project's objective.
If you wish to include some special effects in your video, then you must invest in a software that at least has a basic effects package. For example, many educational and infotainment videos make use of green screen editing to include certain bits of animation and other related effects in their modules. This feature, however, is not available on basic video editing softwares and is seen only on certain specific softwares. Users who have a regular use for this feature might thus invest in these softwares to facilitate a smoother workflow.
Conclusion
Even though the above list is certainly not exhaustive, it is a collection of some of the most fundamental features that new users should look out for before zeroing in on a video editor software. It is important to realise that no one can know what's best for them at the outset, and it'll take a fair degree of experimentation to safely arrive at that conclusion. However, if you have a trusted list of parameters to begin with, you can at least ensure that your experimentation does not blow out of proportion. Click for more info on Youtube video editing.