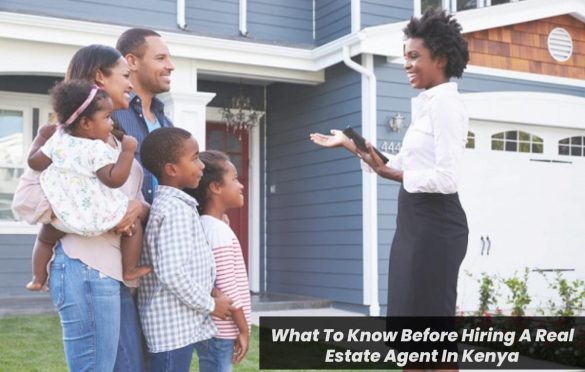 What To Know Before Hiring A Real Estate Agent In Kenya
Real Estate Agent – The real estate market is highly competitive and can be daunting for buyers and sellers. You cannot go through buying, selling or renting alone, especially if you are busy, so hiring a real estate agent is vital. While there are plenty of competent professional agents out there to hire, finding the right agent is not easy, and that is why hiring a real estate agent should not be taken lightly. Look at some of the things you should consider before making your decision, such as;
Agent's experience
The experience of the agent is something to think about. Make sure the agent you choose has experience with the kind of property you're looking at. The agent ought to be knowledgeable about the region you are searching in. Inquire about the agent's industry experience and the number of homes they have sold.
Request for credentials
Checking an agent's credentials before hiring them is crucial for various reasons. For one, to confirm that the agent is qualified to sell or obtain the kind of property you are interested in. Additionally, check to see if the agent has a good reputation and is knowledgeable about the neighbourhood market. Also, verifying an agent's credentials can assist you in avoiding fraud and other issues that might arise when working with an unskilled or under-qualified agent.
Inquire about the agent's reputation
Ensuring you are working with a trustworthy and reliable agent is the primary goal of researching their reputation. You don't want to do business with one of the many fly-by-night entrepreneurs in the real estate industry. Asking for references from former clients, family, and friends is an intelligent technique to evaluate an agent's reputation. Red flags should be raised if the agent is hesitant to furnish references. If the agent has been the subject of any complaints, you should verify with your local government.
Agent's marketing plan
You might think that all real estate agents have the same marketing plan; unfortunately, that's not the case. Some agents have a very basic and straightforward plan, while others have a more sophisticated and detailed one. It's essential to check the agent's marketing plan before hiring one because it can give you an idea of what to expect.
Your understanding of the agent's strategies and how they intend to implement them should be evident from reading through their marketing plan. In addition, it would help if you understood the agent's success rate and experience level. Therefore, before using an agent, it is a good idea to review their marketing strategy so that you select the best candidate.
Check agent's commission
For various reasons, examining an agent's fees before choosing them is a good idea. Making sure the agent is credible and has a solid track record can help you understand the price you will pay for their services. Also, you can approximate your house cost, especially if you are buying or selling around Nairobi. You should also check to see if you receive the best value for your money.
Personality
Personality is one of the most crucial things to consider when choosing a real estate agent. While it can appear insignificant, it can substantially impact how you feel. A skilled agent will be able to put you at ease, respond to your inquiries, and assist you in finding the ideal house. Conversely, a lousy agent may turn the procedure into a nightmare. Therefore, before choosing an agent, you should assess their characteristics to avoid wasting your time and aggravation.
You must make the right decision when selecting a real estate agent, so don't rush into it. However, before making the final choice, be sure to take the above aspects into account.