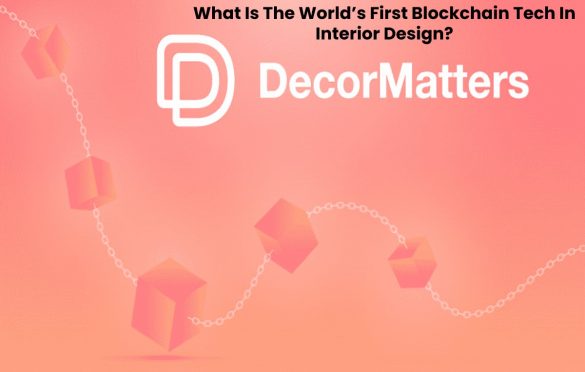 What Is The World's First Blockchain Tech In Interior Design?
Interior Design – DecorMatters is an innovative start-up transforming the interior design and furniture purchasing process. This innovative application just received $10 million in investment to continue developing its groundbreaking and hugely popular iOS app. This round of investment, sponsored by ZenStone Venture Capital, will allow the business to expand its efforts into AI and AR technology in the consumer interior design space.
DecorMatters, founded in 2016, is an industry pioneer in putting AI and AR technology firmly in the hands of interior design customers. Over four million customers use their iOS app to design and explore interior spaces, working with expert designers to construct rooms and shop furniture directly from their phones.
Designers can assist furniture shoppers in making home improvements simpler than ever before, thanks to the app's revolutionary technologies. Thanks to a simple AR connection, users can imagine how their homes will appear with furniture from big shops like Pier One, Overstock, Wayfair, and more than 25 others. Currently, more than 100,000 interior designers have contributed over 750,000 high-quality designs. Users may now see how their objects appear in a new location without physically moving them. When shopping for anything new, most individuals make educated guesses about what would go well with what they already have. Thanks to this innovation, users may see how everything will appear before making any purchases.
According to DecorMatters CEO and founder Farris, the additional financing of DecorMatters will enable them to take their AI and data technologies to new heights. This boost will allow their users to have a more delightful experience from idea generation to interior design to a furniture purchase. Furthermore, they are preparing to launch the world's first blockchain platform for the furniture sector, which will enable ad-hoc cooperation and profit-sharing at scale between design firms, shoppers, and furniture companies.
Customers will be able to shop and create rooms in collaboration with professional interior designers using the blockchain ledger. The latter will receive a piece of the sale through a profit-sharing arrangement. The app users can be recommended utilizing the app's tailored AI technology. It's a significant breakthrough in the furniture sector, presently worth more than $600 billion.
Customers may interact while browsing the newest options from major stores on DecorMatters, focusing on interior design and furniture buying. DecorMatters has become the top player in the customer experience of discovering, developing, and purchasing gorgeous furniture suitable for any environment by delivering unique, efficient methods to use both AI and AR in design projects. Their $10 million investment in the blockchain will expand their reach among design-conscious customers, providing a better interior design experience from casual hobbyists to expert designers.
According to Farris, they were eager to use the innovative technology to remedy the broken system and make it easier, faster, and less expensive for all consumers after experiencing the frustrations of DIY interior design ourselves. That's why they started DecorMatters first. With over 400 percent year-over-year growth, they were excited to see what new trends and ideas emerge in the future and how we can assist each user in creating their ideal interiors with the aid of DecorMatters.
https://www.okx.com/markets/prices