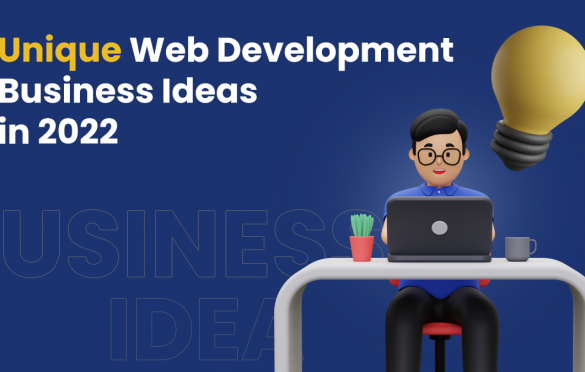 8 Trending & Unique Web Development Business Ideas in 2022
The scope of technology is expanding every day, and so is its implementation and usage in different sectors. In addition, users are quick to adapt to the latest tech trends, be it using a website for online shopping, or taking online hobby courses.
One of the primary reasons for consumers to prefer this trend is its convenient and easily accessible nature. Resulting from this, the businesses are quick to respond and are shifting to tech-centric practices.
As a consequence, it has become fundamental for businesses to go digital and create a platform that satisfies the needs of these 'digitalized' consumers. One way to do this is to develop a website for your idea and reach a wide audience.
It is a well-known fact that websites are highly popular to this day and are preferred because of their easy accessibility, high performance, and seamless user experience. Therefore, the scope of creating a website to deliver one's services is on the surge.
However, before making any sort of investment, it is essential for a business to ensure that it will be feasible and will generate returns. Therefore, let's take a look at how feasible it is to build a website in the present time.
Why Invest in Web Development? Market Insights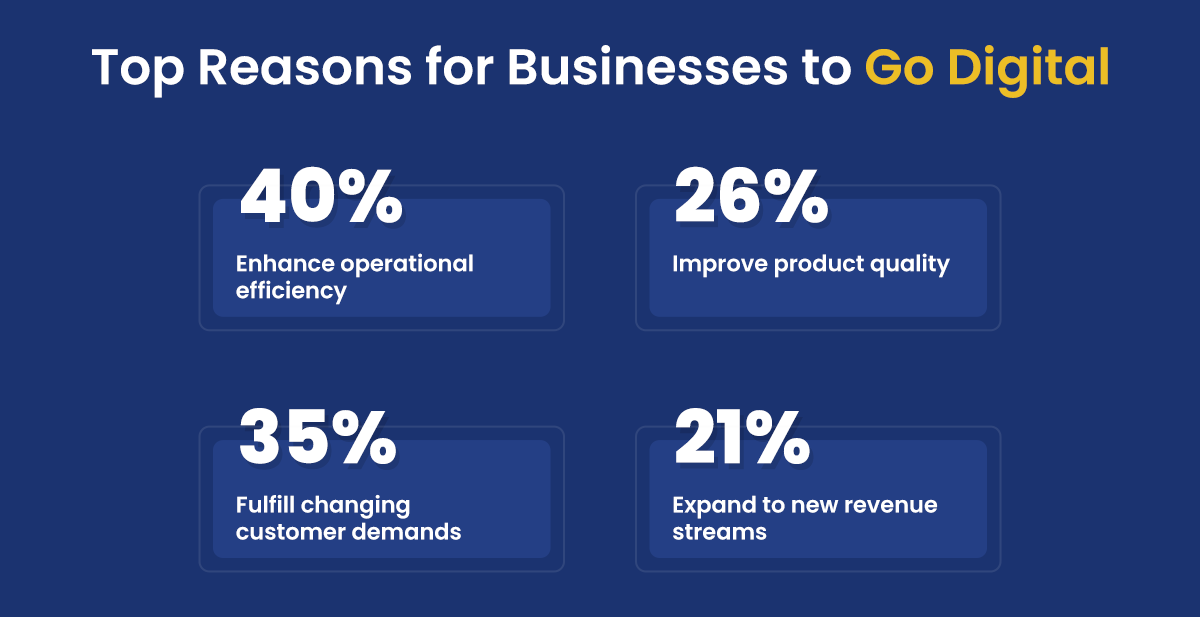 Astonishingly enough, more than 380 websites are developed every minute. These figures result from the increasing use of the internet and internet services, especially after the COVID-19 outbreak.
It is commonly known that the travel and meeting restrictions implied during the global pandemic had forced numerous industries to go online. From education to corporates, everyone has significantly adapted to digital technology.
However, people and industries have realized the scope of digital platforms and their benefits for the business. This has resulted in a digital shift, which is creating new business opportunities.
In the present time, almost anything and everything can be done online and remotely. Moreover, this online medium is preferred by the customers because of its convenient nature.
Therefore, creating a website with an excellent business idea is the latest trend amongst entrepreneurs and startups. However, while it is easy to develop a website, finding a great and revenue-generating business idea can be challenging.
But that's nothing to worry about, as here we have brought you the top 8 website business ideas that are time-tested and are an excellent opportunity.
8 Trending Business Website Ideas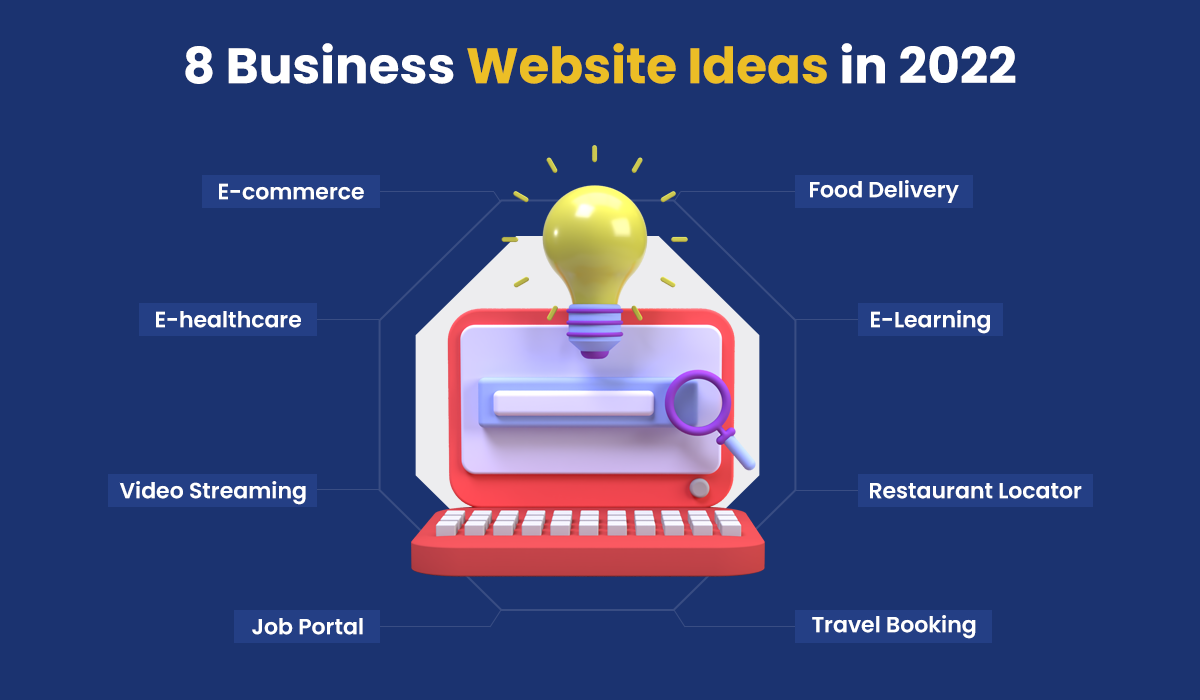 E-retail is easily one of the most popular business ideas and also the one with the most business potential. Speaking factually, the global e-retail market is expected to reach USD 5.55 trillion by the end of 2022.
In the present time, almost everything can be purchased online, from items of daily needs to luxury goods. Owing to this factor, creating an e-commerce website is a highly profitable business idea.
You can either build a website that is specific to an industry or an all-in-one e-retail website like Amazon. One factor that remains common in either of these approaches is that your website will operate with the marketplace model of e-commerce.
In this model, a business can earn high revenue from various modes such as sales commissions, featured advertisements, and warehouse services. This will ensure quick returns without a hefty investment.
This makes e-commerce web development one of the easiest yet highly profitable digital expansion strategies.
The dining trends are highly dynamic and are quick to change. The latest and most prominent trend in the dining sector is online food delivery, which allows users to get food and beverages delivered to their doorstep. The global food delivery market is expected to reach USD 130 billion by the end of 2022, making it a business idea with high success potential.
Food delivery website development is a business idea to connect the diners with the restaurants and facilitate online food delivery. These types of websites are high in demand as the global need for convenient dining is increasing.
The potential of these types of websites is unlimited, as one can integrate the platform with various unique features like memberships, loyalty rewards, and promotions to generate customer satisfaction. This will, in turn, positively impact the overall revenue of the business, therefore ensuring profitability and quick ROI.
The recent pandemic has made the world realize the importance of good healthcare services. Moreover, as technology is taking over the world, the global healthcare sector is coming closer day by day.
E-Healthcare website is a platform that connects healthcare practitioners with patients and aims to enhance the quality of life of ordinary people. One can use such websites to find a doctor, book an online/ in-clinic consultation, get a diagnosis and prescription, and undertake healthcare practices remotely.
Moreover, by integrating the website with features like medicine delivery, 24X7 patient support, and an IoT health tracking device, you can further add to the value of your platform.
Simply stated, the potential to earn from this web development idea is high. To generate maximum revenue, one must know their market niche and develop an e-healthcare platform that fills the current market gap.
One of the biggest impacts of COVID-19 was on the education sector, as the educational institutions all around the world had shut down. However, e-learning platforms have been highly useful for coping with the situation.
Nowadays, most of the people prefer to learn online due to the system's convenient nature. Moreover, e-learning facilitates and promotes distance education, which has made education more accessible all across the world.
In these circumstances, creating an e-learning platform that connects educators with learners is an excellent business opportunity. One can use this platform to offer various courses in academic as well as co-curricular sectors.
Moreover, you can add value to your online learning website by adding features like replay courses, subscription plans, and learning reward points. This will certainly enhance the overall profitability of your business.
Video streaming websites are high in demand, as the consumer's preferred mode of entertainment is shifting from traditional television to online OTT platforms. In this scenario, creating a video streaming website and carefully strategizing its monetization is a worthwhile idea.
There are many ways to monetize your video streaming website. This includes Subscription Video on Demand (SVOD), Advertising Video on Demand (AVOD), and Transactional Video on Demand (TVOD). You need to select a model that is ideal for your target market.
All three of these monetization models have high prospects and, when implied correctly, can turn out to be an excellent opportunity. Moreover, various video-streaming websites operate with a hybrid monetization model, therefore maximizing their revenue.
Nevertheless, by finding which monetization model and making a high-end video streaming website, you can effortlessly expand your business in the OTT sector.
Restaurant Locator Website
With the food and beverage industry expanding its horizons every day, there is a plethora of new restaurants and cafes popping up on every corner. As a result, the options for diners are more than ever before.
In this case, creating a website that helps locate dining outlets like restaurants and cafes is just the need of the hour. The website can provide the users with a list of nearby restaurants with their menus and pictures to choose from.
Moreover, one can enhance the website's value by adding features like customer reviews, promotional discounts, and payment gateway integration. This will make the website a complete dining solution for your customers, and a great market success.
The restaurants can enlist themself on the website and be charged for the same. These charges can be either a one-time fee or a periodic subscription plan. This makes the restaurant locator website a tremendous business opportunity for business owners.
There is a huge market of job seekers and job providers looking for mediums to connect with each other. Therefore, creating a job-hunting website will allow you to make the best use of this market gap and even monetize it.
Job seekers can use the website to create a profile and find jobs in their industry. On the other hand, companies looking for prospective candidates can also make their own profiles and post relevant job openings for candidates to apply.
To add to that, the website can also turn out to be a useful tool to check the candidate's background (for companies), and finding reviews about the company's work culture (for candidates), therefore enhancing the website's value.
There are numerous ways to earn from this business opportunity. However, having a premium profile and subscription-based membership are two of the most feasible ones. 
Even though there are a few job portal websites available on the internet, by adding unique features and creating a high-end website design, you can create a differentiated market position.
Travel and tourism is a globally popular business segment and is a growing industry. Moreover, there is a spike in the number of people looking to travel for leisure, amongst other reasons.
Keeping this in mind, creating a travel booking website can be a million-dollar business opportunity. Moreover, the popularity of online travel agent platforms is increasing, and so is the segment's revenue.
A travel booking website can be a complete solution for travelers and provide a large number of services, ranging from booking travel tickets to hotel rooms. Moreover, one can also add other features, like local maps, language translation, booking local guides, etc.
The ways to earn from this business idea are many. However, the most profitable one is commissioning from customers booking travel tickets and accommodations. To add to that, one can also generate revenue by offering a membership program to frequent travelers and corporates looking for business travel.
This was it for some of the latest business website development ideas. Well, now that you are aware of the potential that each idea has, it is the time that you implement it into reality and develop a website.
What's Next? Implementing Ideas into Reality
Generally speaking, there are two ways you can get a website for your business: white-label, a.k.a. readymade solutions, and custom web app development. Each of these ideas have their own advantages and limitations, and it is up to you to determine which method is suitable for your needs.
Let's take a closer look into these methods, and find out the pros and cons of each of them, to pick out the suitable one.
White-Label Solutions
White label website solutions are also known as readymade solutions and are known for the less time and money they take to be developed. As their name suggests, they are pre-made solutions that most of the web development agencies nowadays have ready with them.
All one has to do is find a web development agency that offers white-label solutions for one's particular business idea and connect with it. The agency then changes the website's UI design as per your requirement to offer an almost-unique website.
This option is highly effective in terms of the time and cost it takes to build the website. However, there is very little one can do to customize the website and offer a unique experience to the users. Therefore, this option is often recommended only when time and budget are a constraint.
Custom Development
Custom development is one of the most popular and highly recommended approaches to building a website for your business. In this option, one gets a custom-developed website for their individual needs.
Needless to say, this is a solution that ensures that your website is unique and stands out in the market. By custom-developing a website, you can control various elements of your website, such as design, performance, scalability, and more.
If you want to develop your website from scratch, you can connect with a web development partner like an agency or freelancer or even build a website on your own. Moreover, if you plan to build a large-scale website, you can even hire an in-house team that will work full-time on your project.
However, it is worth knowing that while custom-developed websites surely offer seamless performance and high-end UI, they take more time and cost to develop than their readymade counterparts. This is because the website is built as per your individual requirements, which in fact, is a worthy investment.
Now that you are clear with the fundamentals of white-label solutions and custom development, take a look at the below-given comparison between the two to find out which one can be a better choice.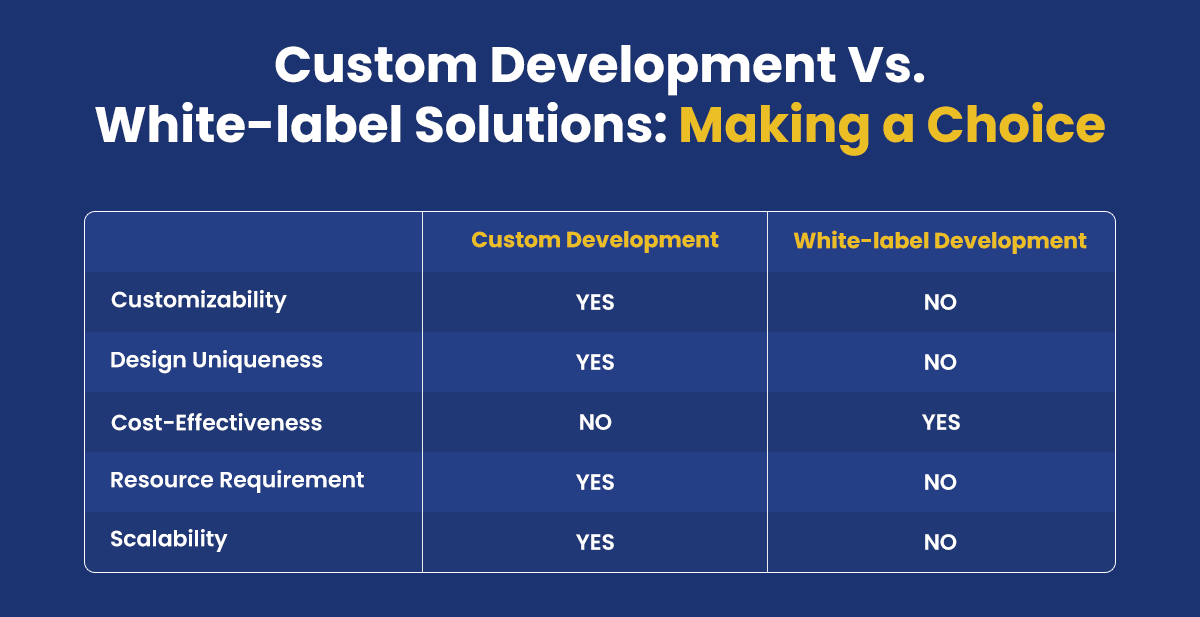 It should be clear by now that if time and budget are not a constraint for your business, it is highly recommended to go for custom development of your website. This way, you will ensure that your website delivers a top-notch user experience and generates optimum returns.
Summing It Up
There is an immense potential for users to earn from developing a website. However, to create a successful business website, one needs to conduct thorough planning and select an idea that is at par with the market's requirements.
Each of the ideas have their own market niche, and can generate hefty revenue if implemented correctly. Nevertheless, regardless of the idea you choose, you also need to make sure that you choose the right way to develop your website.
Depending upon your business's needs and limitations, you can choose to get a custom-developed website or a readymade one. In the end, what's essential for your business is a well-planned strategy and an optimum action plan to generate optimum returns.