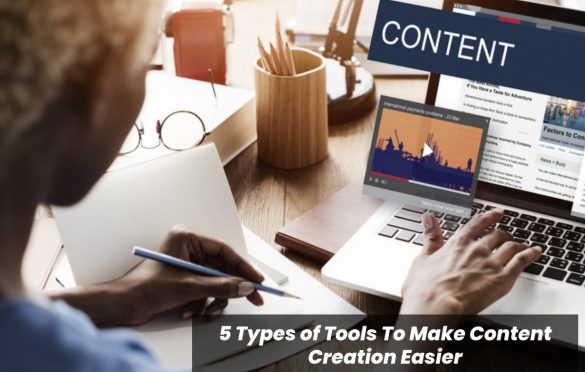 5 Types of Tools To Make Content Creation Easier
Content Creation – These days, digital content is what makes the world go round which means that everyone and their dog seems to be doing it. Making your content stand out comes down to a few key things, including how streamlined and professional it looks, sounds and feels to the audience.
Content creators know that without the proper tools, apps, and programmes, their jobs would be a whole lot harder (and even impossible). If you're a content creator looking for a way to boost your material, a small business owner who needs to start creating for their brand, or perhaps just someone looking to move into the industry, here are some tools you could use to help you create different types of digital content.
Graphic Design and Editing Tools
Making visual content like social media posts and web design simply cannot be done without the right tools. Depending on what you're creating, you might need one or more different tricks up your sleeve.
Try to pick a website like create.vista.com as an all-in-one graphic design and editing tool for your visual content. You can choose from countless templates for every type of post on any social media platform and personalise everything to perfection. You can even use this type of website as a tool to help create your brand identity by generating a colour palette and figuring out your main design elements.
Find a website that offers free (and high-quality) stock images too, and if you create a lot of charts, graphs or infographics, a website where you can design them quickly and easily will be your best friend.
Written Content Tools
As a writer, most of your flair comes from your mind rather than fancy visual aids and designs. However, this doesn't mean that a little extra assistance isn't needed.
Writers should always be making use of tools like Grammarly to make sure that their writing style, grammar, spelling and punctuation are up to standard – we all make mistakes from time to time. There are also tools out there that can help writers check their SEO scores, create attention-grabbing headlines, and even write your content for you using artificial intelligence – lazy writers will love that one.
Audio Content Tools
These days, podcasts are more popular than ever for various reasons. Starting a podcast in 2022 could be beneficial for your business, brand or for yourself if you're looking to move into the content creation space.
However, professional podcast creation does require a lot of equipment and software too. Look out for good recording studio programmes to help you record, edit and export your audio easily and quickly. You'll also need to make sure you pick a podcast platform that's easy to work with.
Video Creation Tools
Video content isn't going anywhere anytime soon, and has only continued to gain traction over the years. We've progressed from the YouTube era to short-form video content on social media – just think of the battle between Instagram reels and TikToks.
However, creating good quality, professional video content isn't a walk in the park, which is why you'll need a few different tools. You can look out for animation software, editing, translating and captioning tools, screen recording, and other video-creating sites, apps and software.
You'll also need to ensure that you're using the right video format – as long as you know the basics you should be fine.
Content Planning Tools
As a marketer or full-time content creator, working with a content planning tool is essential if you want to stay on top of things. You'll need various tools to help you identify and analyse online trends, pick out keywords and assist you in the SEO section of your content planning. Research forms a large part of content planning and you'll need assistance with it.
On top of this, you'll also need a pretty meticulous way to plan and schedule when you'll be creating, publishing and promoting your different materials. Of course, you could simply use Google Calendar for this or even do it in a handy notebook. However, there are online content planners and calendars that will make the process way more streamlined and easy for you to manage.
Final Thoughts
While good content creation stems from a creative mind and a dedicated work ethic, it can't be done alone – we're only human after all. Look into a few of these suggestions to help make your creating process quicker and easier, while also producing better, higher-quality and more beautiful work each day.