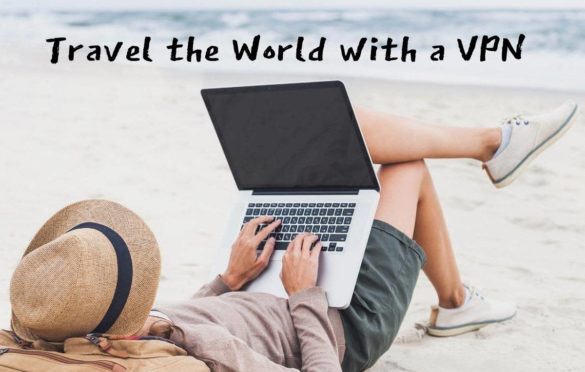 Travel the World with a VPN
Travel the World with a VPN – The outbreak of the Covid-19 pandemic has dramatically changed our lives, including all but halting international travel. While there may not be any overseas holidays to look forward to, there are other ways in which you can travel the world — like via a VPN!
There are many reasons why you might want to appear somewhere else in the world online. Perhaps you are wanting to access streaming services only available in another country. Or, maybe you're a keen online gamer and want to play against your friends who are halfway across the world.
In such situations, a VPN is a great tool that can help you disguise your location and broaden your access to the online world.
What is a VPN connection?
What is a VPN? Well, a virtual private network (VPN) is a security tool that helps to create a private, encrypted connection between the user's device and their internet service provider (ISP). All devices connected to the internet have an Internet Protocol (IP) address which can be used by your ISP or government agencies to track your online activities.
A VPN masks your IP address, meaning that what you do online is completely safeguarded from monitoring. Comparatively much more secure than any average Wi-Fi connection, a VPN allows the user to access every website, irrespective of censorship or location-specific blockers — meaning you can safely traverse the online world from the comfort of your living room!
The introduction of a VPN server as a middle party between you and your ISP. Any tracker, blocker, or hacker trying to view your online activity will only view the company VPN server's IP address and any data that they do access will be completely encrypted.
What about free VPNs?
Very few good things in life are free, which is why you should be very wary of free VPNs. Most likely, the VPN provider will be tracking your online activity and selling your data onto third-party advertising companies in order to make a profit. recruitment tracking spreadsheet template as an Excel file or a PDF. The template provides a column for each of the major stages in candidate
Even if your free VPN is advertised as being 'no-log' — meaning the VPN company keeps no record of your online activities — there are likely to be other disadvantages to using a free service. Free VPNs often don't offer as wide a range of server options, their connection speeds may be very slow, and they may bombard you with ads.
What to consider when deciding on a VPN provider
With thousands of VPN options out there, it can be difficult to settle on a provider that is right for you. Keep in mind these key points when making your decision:
Certainkinds of VPN services — often those that are free — don't give you the option of choosing which server you are connecting to. Some are also known to use virtual servers, which appear to be present in one country but are actually located elsewhere. Be sure to fully check your server location options, particularly if you are using the VPN solely to connect to the internet via a specific country.
Think about what is most important to you in a VPN connection. Are you looking for the fastest speed possible? Or would you prefer to know that your VPN provider is not tracking your online activity? The answers to these types of questions will inform which provider is right for you.
The best VPN providers offer secure, encrypted connections across all of your devices. Make sure your VPN is mobile and tablet compatible and enables multiple users to connect at the same time.
Travel the world with a VPN
The internet is a wonderful place full of information, entertainment, and resources — and you should try and see as much as possible of it. Using a VPN in Australia gives you access to all corners of the online world while also crucially protecting your personal information. Next time you log onto the world wide web, do it via a VPN — the safest way to travel online.
Also, You can find more helpful resources at Yictic.
Check out VPNCompass guide for Amazon Prime