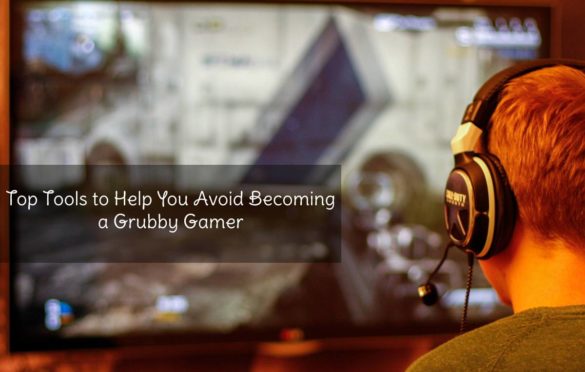 Top Tools to Help You Avoid Becoming a Grubby Gamer
Grubby Gamer – Gaming, as an entertainment medium, has become so popular that much of the stigma that once swirled around gamers has been dismissed by the general public, especially with the PlayStation and Xbox consoles selling millions despite low supply, per Gaming Intel. However, some of the stereotypes were deservedly made, particularly one that pinned gamers as being somewhat grubby. This isn't a case against gamers, though, more their gaming gear. Now, we've got PCs, three forms of console, and, as detailed by New Zoo's industry report, a dominant smartphone gaming audience. Regardless of the platform, the chances are that your gaming hardware is filthy, so here's how and why you should clean your devices.
Mobile players are the most in need of a cleaning

There are billions of smartphone users in the world, with many of them playing at least one gaming app, but it's not the sheer number of players that make smartphone gamers the dirtiest. As shown by the Time's look at cell phone bacteria, the average smartphone has over 17,000 bacterial gene copies. For perspective, this is ten times as many as there are on an average toilet seat. Luckily, one of your main testing and tools to remedy this is a cheap microfiber cloth, which you can get from Tool Station or any other trade store.
Being electronic, you'll need to be careful when cleaning it, especially as the Good Housekeeping guide advises that you remove the phone from its case before cleaning it with a microfiber cloth and Lysol wipes. Things get a little bit more complicated if you're a dedicated phone gamer, though. As you may have grips like the the Razer Kishi iOS gaming controller, you'll want to clean your phone thoroughly as well as the gadget. While likely not as dirty, you'll want to take note of the following tips for cleaning the additional controller, too, as bacteria will colonize the same places.
The need to clean your PC and console controllers
PC gaming is widely considered to be the very best way to experience any game, with the Acer Predator Orion 3000 gaming desktop being a popular, mighty unit. However, with its increased space for catching dirt, due to the keyboard, gaming PCs stand as the dirtiest for colonies of bacteria. As  found in this Betway casino research, PCs have a median of 165 bacteria colonies, while the Nintendo Switch is the cleanest – comparatively speaking – with 55 colonies of bacteria. In the middle of the two, PlayStation controllers tote around ten more colonies than Xbox controllers at 73.
For a keyboard, the AF Sprayduster Compressed Air Duster is your best weapon, helping to excavate a lot of the grub under the keys. Still, for a full cleaning, you'll want to follow How-To Geek's computer cleaning guide and also use a cleaning cloth and even thermal paste. On each of the three console controllers, the bumpers, analogs, and grips are the main sources of bacteria colonies, so the best place to start is with a total wipe over with an antibacterial wipe, which can be bought from Wilko.
For the joins of the devices, you'll also want to grab some of the Mashable list of household controller cleaning equipment, such as toothpicks, a dry toothbrush, and lint-free cloths. Of course, if you've stepped into the world of virtual reality, such as with the Nintendo Labo Toy-Con 04 VR Kit, you'll want to give that a proper clean as well.
Now that you know just how grubby your gaming gadgets are, be sure to grab the key, but widely available, tools to clean them regularly.
Reference: Popbom