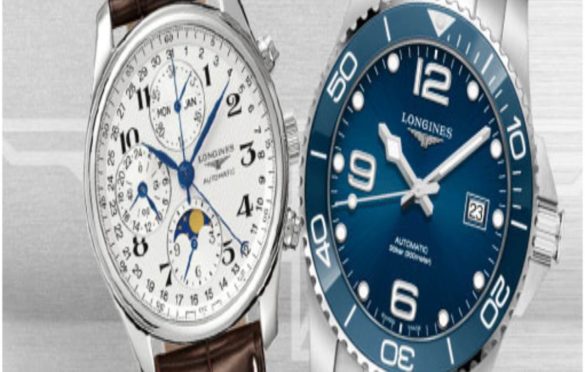 Top 3 Starter Watches From The Wristwatch Collection of Longines La Grande Classique
Suppose you are still looking for the next wristwatch to purchase in today's market. You can look through the diverse timepiece collection of La Grande Classique from the brand of Longines. If you have a particular like and want, you can choose from their long list of wristwatch collections with different types of design, color, and features for your distinct wants and needs.
They also manufacture wristwatches for both men and women. There are numerous choices in today's market; the main goal is for you to choose the best wristwatch that suits your style and needs while getting your money's worth. In this article, we narrowed down three of the best wristwatches that we believe are worth consideration to put on top of your list.
The Brand of Longines
The Longines brand has multiple wristwatches from their different collections that will surely satisfy you and get your money's worth. The diversity from various wristwatch collections answers the public's demand in terms of color, quality, features, etc. Having all of that said, Longines is the brand you should start browsing for your next timepiece purchase.
Here are the best picks from the Longines La Grande Classique collection.
La Grande Classique De Longines Quartz Blue Dial Men's Watch
The Longines brand has multiple wristwatches from their collection. The first one on our list is the model L47664956, designed to have the material of stainless steel, which is to achieve longevity for it to be able to use as an heirloom. This can be a great option if you want to have a special gift that wants to be passed on from generation to generation.
You will also enjoy the band as it is also paired with stainless steel materials, which can be a great contributor to the overall look of the wristwatch. The goal of the wristwatch is to be as simple as possible. As you can see with its face or dial, everything is simple and uncomplicated. Even the indexes have a straight line index design and are paired with silver-tone hands.
One of the features that also make it best among the rest is the water resistance that allows it to submerge below 30 meters. If you want to wash your hands or take a quick bath, you don't have to take your wristwatch off because of this fantastic feature. You can also confidently face the rainy season without worrying about your timepiece.
La Grande Classique Quartz White Dial Ladies Watch
The model L47092212 is a ladies wristwatch that is mainly made for formal events. It is a style type of wristwatch which helps the ladies to complete or complement their outfits. The gold and black color scream this wristwatch as a luxurious timepiece that gives you the first impression of fierceness and sophistication.
When purchasing this wristwatch, you will enjoy the stainless steel materials used in making the case and the alligator leather, which the band is made of. Both those materials are adequately planned to deliver a sturdy and compact wristwatch that can last for years. The band is also planned out to deliver a comfortable experience while wearing this timepiece.
If you are planning on buying this wristwatch, you are making the right decision in your life. This timepiece will surely be a great addition to your collection and be a great way of investment. You can use this as an investment for your future, as the prices of luxury wristwatches are, most of the time, higher as the years go by.
La Grande Classique De Longines Stainless Steel Unisex Watch
The final wristwatch in our list of narrowed-down starter wristwatches to consider from the La Grande Classique collection is the model L49084512 which is specifically made for both men and women. Yes! This is stainless steel unisex timepiece can be a great option to purchase for our ladies and gentleman.
The black and silver color indeed made this timepiece elegant as it can be. You can wear this on different occasions, whether it be in a formal event or on your regular day basis. You can wear this without even feeling that you are wearing a wristwatch because of the materials used in making its band made with alligator leather.
Takeaway
When deciding on purchasing your next wristwatch, you should always make sure that you are knowledgeable enough to know the market, especially if you are making it an investment opportunity. These are some of the best starters that you should be considered depending on your style and activities.