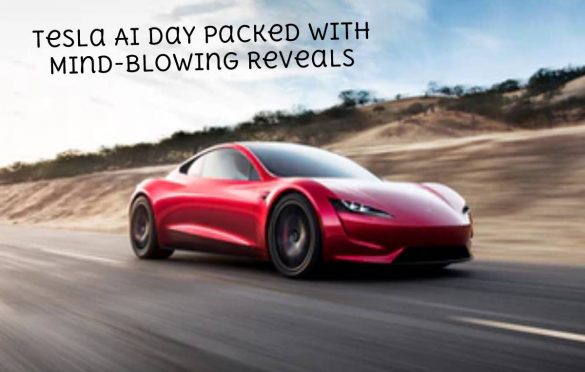 Tesla AI Day Packed with Mind-Blowing Reveals
Elon Musk, the controversial Tesla founder, organized a fantastic Tesla AI Day, going one step farther into the future of technology based on artificial intelligence. It's not a mystery that Musk wants to be remembered as a groundbreaking technological revolutionary rather than just as the owner of the car company. Therefore, it has come as no surprise that he described Tesla as a company that relies heavily on AI solutions for learning and delivering conclusions.
Tesla AI Day started with a 45-minute-long electronic excerpt from the "Matrix" soundtrack during which Tesla experts were explaining how Tesla technology works. The main goal of this intro was to recruit the most talented and bright to join the Tesla team and share their vision of the future.
If you missed the live stream of this high-profile tech event on Thursday via the Tesla YouTube channel, here are some of the "wow moments" of the Tesla AI Day.
Presenting the Super Chip for the Company's Computer Dojo
One of the Tesla experts presented an in-house built chip used for running the company's supercomputer Dojo. Since the company's AI technology largely depends on Dojo, this new chip will enable it to process an immense amount of visual data four times faster, i.e. it will make Dojo more efficient. 
This said work efficiency has become one of the major issues, especially in post-Covid times with the increase of remote work. If Elon Musk has found a way to make his supercomputer more efficient, all business owners need to be provided with a solution that monitors the employees' efficiency. This solution comes in the form of Workpuls, the computer tracker software that will help managers maintain efficiency and avoid numerous challenges that work from home may bring.
As for the Tesla super chip, D1, it will make Dojo faster and more efficient due to some advanced features that the expert proudly described during the reveal. He continued to praise this in-house-made chip by saying this is the "state of art" piece of technology that meets "golden standards."
Another reason why Musk decided to design and build the company's chip was the chip shortage that hit the car industry last year. This enticed Musk to make a Tesla chip and avoid similar issues in the future.
Finding a Solution to the Computer Vision Problems
Elon Musk advocated the vision-based approach that uses neural networks, enabling Tesla cars to run in Autopilot mode anywhere in the world. Tesla's expert in the AI sector vividly compared building a car to building an animal with all "senses" it uses to make "intelligent" reactions to the environment. He emphasized that Tesla's neural networks, an indispensable part of the machine's brain, have evolved, enabling the car's visual cortex to process visual information more smoothly and intelligently. 
When it comes to computer vision systems, one of the problems Tesla experts need to tackle is related to temporary vision blockages. Road signs that cars pass by quickly so the computer system cannot remember all the essential information in time to make needed changes are another issue. Therefore, a team of Tesla engineers used AI to form a time and space video database the car can "consult" to make predictions and decisions about the road.
The head of the AI sector described this playfully as creating an exciting video game where Autopilot plays the leading role.
Going Above and Beyond the Full Self-Driving System
During the Tesla AI day, many speakers emphasized that their supercomputer will not only be in charge of the FSDS. Saying this, they focused on Dojo's numerous extraordinary features, like architecture simulation that will be used universally and take Tesla beyond the borders of the auto industry.
Musk Believes that once Dojo becomes operational sometime next year its exceptional AI technology will be used in numerous other fields besides the auto industry.
Know About: kimcartoon safe
Introducing the Tesla Bot as the Main Sensation of the Event
As if Musk wanted to confirm his intentions to take Tesla technology to the next level, he introduced this Tesla humanoid robot. The robot appeared on the stage dressed in white with a black mask over its face, making awkward dance-like moves. According to Elon Musk, this humanoid robot will be devised to perform tasks "people least like to do", like grocery shopping or some other boring chore. This prototype, designed to carry 150 pounds and walk five miles, will display all the significant info on the screen placed on its head.
Controversial as always, Musk did not miss the opportunity to mention that his Tesla bot is meant to be friendly and operate among humans. However, people from Tesla will ensure that people will be able to overpower or run from it in case of an emergency. Whether this ominous observation was another intentional provocation or not it is open for interpretation. Whatever the case may be we still prefer working and dealing with people rather than robots. Even though it may not always be easy to stay focused and highly productive, Workpuls employee monitoring software will help teams enhance performance while providing employers with effective time management solutions. 
In addition, you can read more helpful posts at blog4techies