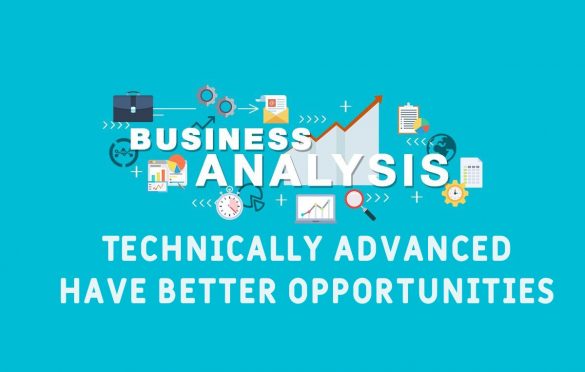 Why Does Being Technically Advanced Have Better Opportunities In Business Analysis
Business Analysis – Technical BAs require a different set of hard and soft abilities in addition to what you would be used to as a business analyst. As with traditional BAs, they'll need to communicate effectively, elicit requirements, and document their work.
The business analyst career path is versatile. While a business analyst's talents are ubiquitous, their application varies by industry, organization, product, and project. Companies often expect technical BAs to be familiar with more complicated systems.
Those kinds of choices make a career as a business analyst appealing for ambitious people ready to devote themselves to obtaining the skills required for the position. It is essential to be able to turn data-driven insights into valuable solutions. To do this, they need to improve their communication skills, facilitation abilities, analytical abilities, and work in groups. A 7% to 27% increase in business analysis is forecasted between 2016 and 2026, depending on the role.
What does a Business Analyst do?
Business analysts work with companies to help them enhance their processes and technology. Businesses and their customers benefit from their research and analysis, which they use to develop new systems and implement them.
Analytics has influenced every part of our lives to some degree. Analytics has been implemented in the workings of virtually every firm for nearly the last five years, and almost every area has seen an increase of prospects in this sector. While AI, machine learning, the Internet of Things (IoT), robotics, and other cutting-edge technologies are still in development, Business Analytics has already achieved the status of being all-pervasive.
Business Analyst job description
As a general rule, business analysts gather data and generate solutions before putting those solutions into action via new or upgraded technology. During a project, a business analyst may be expected to perform the following:
Interact with colleagues to learn about the business's needs.
Understand the service or product given by working with stakeholders
Take part in research projects such as focus groups and experiments
Data must be analyzed and modeled to conclude.
Provide suggestions and solutions for strategic and operational adjustments.
Consider the benefits and drawbacks of these ideas before making a final decision.
Change the systems and processes already in place to make these changes possible.
With senior management, discuss the implementation of new ideas.
Produce documents that stakeholders can review.
Assist in the implementation of solutions by personnel
Analyze the results of the alterations made
Business Analyst skills
A business analyst, like any other employment type, requires particular talents. A Business Analyst candidate should have these technical skills.
Statistical analysis software (R, SAS, SPSS, or STATA)
SQL databases and SQL querying
Python and R programming skills
Survey/query software
Business intelligence and reporting software
Data mining
Data visualization
Database design
How is it being a Technical Business Analyst?
Technological projects and solutions are overseen by Technical Business Analysts (TBA). An analyst is a person who works with stakeholders and other members of a project's technical team to document and analyze the business process.
Advanced business analyst abilities are essential for a successful job:
The business process
People at a business are responsible for completing a series of duties to produce a quality product and show it to their customers. Many companies describe a business process as a series of procedures necessary to achieve a particular objective. The result of a business process must be evident if it is effective.
SAS
This Statistical Software was developed by the SAS Institute and is known as SAS. It is capable of retrieving data from many sources and analyzing it statistically. With this program, you can perform advanced analytics and queries relating to data analytics and predictive analysis.
Test scripts
Test scripts verify the software or app's quality. A good test script has all the steps to utilize a software application and the results of each step.
Information Technology
Computers are used to store, retrieve, transport, and manipulate data. Information technology is the science of using computers to do this. Implementing and managing software programs and computer hardware are part of the job.
User Interface
The user interface (UI) is where a human interacts with an electric computer or application. Customers want current technology to act in a certain way for their convenience, therefore building a user interface that is easy to use, precise, and predictable. The user interface enables apps to provide exact product details to their intended customers. It can help turn visitors into buyers.
Technical support
Any hardware or software provider can provide users with technical help. They assist customers with technical issues with their products or services. Also, tech support professionals manage and repair IT issues. They also troubleshoot network issues and install and configure gear and software.
Technical Business Analyst – How to become?
A Technical Business Analyst requires a Bachelor's degree in engineering or computer science. Technical Business Analysts must also know programming languages.
Find out which courses best suited to your career goals and interests. Many Technical Business Analysts, for example, begin their careers by earning a Bachelor of Science in Computer Science degree.
Brush up on your knowledge of computer programming jargon, such as the acronyms SAS (Statistical Analysis System) and SQL (Visual Basic).
Industry opportunities
Various companies are hiring Business Analysts due to increased demand. Many experts choose this role because of its great profile and job description.
Business analysts are in high demand in the following industries:
Government organizations and Public Sector
Information Technology
Small-scale businesses
Multinational Business Corporations
Health and Hospital Services
Finance and Banking Institutions
Consulting Firms
Conclusion
Business analysts must be involved in numerous aspects of the organization's framework to be change agents. Companies in the IT and e-commerce industries reward deserving applicants who value their organizations. Aside from formal education and work experience, advanced Business Analysis certificates help land high-paying employment.