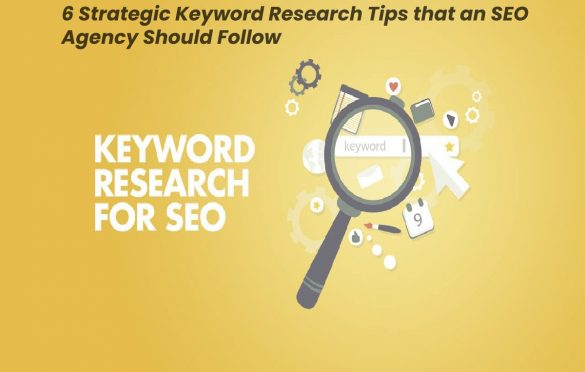 6 Strategic Keyword Research Tips that an SEO Agency Should Follow
Keyword Research – Keywords are the main component of SEO optimization. How your SEO efforts will perform in offering you the best kind of ranking is highly dependent on the type of keywords you have picked. The keyword research thus needs to be highly strategic and impactful so that it can help in better traffic generation. A reliable SEO agency will execute effective keyword research techniques to offer you brilliant results. Leading SEO Agency strategicseosolutions.com has keyword research and strategy at their epicenter for both on-site and off-site SEO initiatives. So, here are some of the brilliant keyword research tips that every SEO agency must follow.
Using Negative Keywords:
Using negative keywords while working on your targeting strategy is one of the many ways that an SEO agency must follow. It can further help you to take your SEO tactics to the next level. Negative keywords are usually a bunch of words that you usually do not want to target while running a PPC campaign.
This strategy further helps in narrowing down your search engine users so that you can further target better reach to this audience who are a right fit for your purpose or niche.
Assessing the Keywords that your Competitors are Targeting
It is always beneficial to have a sneak peek into the keyword research strategies of the competitor sites. A good SEO company must focus on looking at the keyword that its competitors are targeting. It can impressively help small businesses to gain an edge over the competition. To start with it, the SEO master needs to search for new keywords with a phrase, category, or website. Then rather than putting your URL, enter the URL of your competitors. Your keyword research tool will offer you a list of topics and keywords based on your competitor's site.
Build up a List for all Localized Keywords
It is always a good idea to work on localized keywords when it comes to conditioning good strategic research. One of the best tips that will work is, gathering a bunch of localized keywords that will help your business to rank quite higher on the search engines.
Especially if your business is targeting the local burgers, then going for localized keywords will be a highly beneficial tactic. It would be better if the SEO agency developed content that targets all the localized keywords. It will benefit in optimizing your website for local searches.
Find out Common Customer Queries
One of the best ways to find out the strategic keywords is, find the n research tips in the questions that your customers will have. It is better to create content that centers around the special queries or concerns that your customer might ask frequently. Identifying the frequently asked questions can serve you better content ideas. Using those phrases in your business will often come up with better search visibility that a company must opt for.
Look at the "people also ask" Section for Better Ideas
Apart from finding out the common questions using customer research and any other tools, looking at the "people also ask" section in your Google search can also serve some of the great ideas.
It will let you discover some of the additional questions by simply looking through this section which are quite popular queries among the search intent of people.
This section will appear in your search engine results as you type a question in your search bar. You can pick up phrases from there, or you can use those ideas to build up your topic so that you can perform better keyword research based on it.
Consider Seasonality while Searching
Seasonality has a close connection to when your business is booming out. Searching keywords as per the popular season-related interest can help you to find out some of the great keywords which can excel out impassivity.
Whether it is the upcoming Black Friday sale or it is the seasonal time of fall during a year, everything can turn out to be your target for keyword research if your business is dependent on seasonal product selling. Also, you can think of seasonality in terms of affinity to find out the phrases which will work the best. Consider reaching out to a good SEO agency to get better results with your keyword research.
Conclusion
Keywords are the backbone of SEO efforts. How your website will perform or how your business will ace the way out in digital marketing is dependent on the SEO efforts you are giving. To make sure your SEO tactics are working out, you will need to reach out to an SEO agency that can perform the most strategic keyword research for a better result.