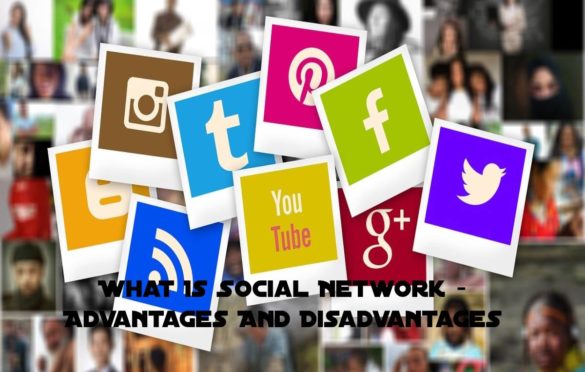 What Is Social Networks – Advantages And Disadvantages
What is Social Networks?
Social networks are communities formed by different users and organizations that interact with each other on Internet platforms.
In social networks such as Facebook, Twitter, Google + or Linkedin, you can form groups and share information and multimedia elements such as images or videos. This, according to the interests of the users.
Each social network has its particular objectives and uses, in addition to the fact that the content must adapted to each one of them.
For example, Facebook is a beneficial social network to contact friends, meet people with the same interests, and create company pages. The latter, to improve branding and positioning.
On the other hand, Twitter is a microblogging platform with messages of a maximum of 150 characters. Thus, this network serves mainly to transmit information and opinions.
Lastly,  Linkedin is a social network for exchanging job offers and connecting with professional contacts.
Advantages of Social Networks
Among the advantages of social networks, the following stand out:
Immediate communication: For example, companies can publish their content instantly and see user reactions shortly afterward.
Job opportunities: Social media can serve as a springboard to offer an attractive cover letter. This, given that companies today tend to investigate the profiles of candidates to learn more about them.
Entertainment: They offer accessible information in real-time and on-demand. You can choose who to follow to stay informed.
Social complaint: Social networks serve to expose situations that, in some traditional media, can go unnoticed. Also, users tend to unite before these causes, giving them greater visibility.
Sharing knowledge: Netizens can group to exchange more detailed information about what interests them. When it comes to training actions or common interests, this option is of great help.
Improve brand visibility: Image is very important for companies. Through the Internet, businesses can cross barriers and create a recognizable brand anywhere in the world.
Dissemination of company content: Content is an essential part of the business strategy because visits to the firm's page increase and, therefore, potential clients also increase.
Measure marketing actions: An intervention is carried out, for example, an advertising campaign, and almost immediately, the reactions of users towards that action are known.
Disadvantages of Social Networks
Regarding the disadvantages, the main ones that users can find would be the
following:
Scams in social networks: On certain occasions, false profiles can be created, job offers that are not real, among others.
Privacy settings: Special care must taken when publishing certain data such as our home address if people go on vacation or images with private information.
Addiction to social networks: This problem can especially affect young people who live pending social networks. Thus, they put aside their obligations and limit themselves to spending time indefinitely on digital platforms.
Main Social Networks
There are numerous social networks, but the most used at work and personal level are the following:
Facebook:  It is the most famous today and exceeds 2000 million active users per month.
WhatsApp: It keeps in touch with millions of users spread worldwide through mobile with instant messages. Advertising on this platform is booming.
YouTube: It is the video network par excellence. Companies use it to introduce their advertising and Youtuber are also key players.
Instagram:  One of the most visual and most used networks today by users.
Twitter: It based on the microblogging format through short messages of 150 characters maximum.
Google +: A social network owned by Google himself.
Pinterest:  Another visual network that includes photo boards that are shared by users.
Also Read: Android – What Is It, It's Versions And More