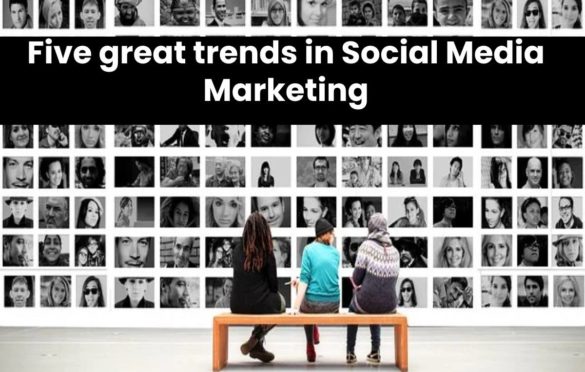 Five great trends in Social Media Marketing
Social networks are constantly changing and are a very important tool to articulate marketing and business advertising. At first, social networks hardly use to publicize products. But their role is increasingly determining to catch the consumer and lead them to the same purchase.
Evolution of social media marketing and shows us the five trends that professionals must observe to stay up to date with marketing and advertising on social networks are.
Organic Reach is Changing.
Marketing professionals have had to change to reach consumers. The organic reach is changing and evolving within social media. Large platforms such as Facebook, Google, or Amazon are changing their algorithms and increasingly entrust their technology to Artificial Intelligence.
Photography began with an analog camera, but it has had many changes, and today the most common cameras to carry out this work are digital.
The bet now must focus on offering increasingly useful and quality content to consumers, content that the followers want to see, and how they want to interact. For example, Facebook did not combat the brands' organic content, but only the content of the brands that not use effectively.
You have to invest in creating engaging social content, which will allow you to gain reach organically. Professionals must be able to generate content capable of creating bridges between business objectives and consumers' needs and desires.
Spending on Social Media Advertising Continues to Rise.
Zenith Media has highlighted that this year, online advertising spending will be higher than television advertising by about $ 40 billion. 40% of total advertising will go to the Internet.
The game that will experience the greatest growth will be destiny for social networks, which will grow by more than 20% to 58,000 million dollars.
The key to conversion in social media marketing will lie in the "call to action" (CTA). Every time new and improved CTA options appear on social networks like Snapchat, Twitter, and even YouTube, advertisers test to improve their sales.
Facebook is still King.
Facebook has suffered a lot in recent months for its privacy and data security policies, but for the moment, it continues to monopolize millions of users. Daily active users continued to increase in the second quarter until reaching 2,230 million. Which consolidates it as the social network with the greatest impact for advertisers.
Facebook has changed its algorithm, and that has caused a decline in the organic reach of brands. This has changed the behavior of businesses on this platform. Marketing on Facebook now involves branding, video creation, remarketing, influencer marketing, content marketing …
Brands should not stagnate on Facebook or, of course, run away from it. Goals need to redefine with better data, analytics, and optimization for both paid campaigns and organic reach.
Chatbots Triumph
Artificial intelligence is the new fashion trend, and within the marketing world, chatbots are the most prominent tool to try on social media.
Thus, chatbots within platforms like Facebook Messenger help marketers communicate effectively with the audience through improved customer experience.
Facebook Messenger will be enriching its functions thanks to the use of chatbots. Many companies are starting to use chatbots' functionality, thereby improving customer service, conversion rates, and overall experience.
Ephemeral Content, key for Younger Consumers
With billions of daily video views on Facebook, Snapchat, and Instagram, marketers can't ignore the engagement that ephemeral content provides, especially millennials and Generation Z. Ephemeral content allows the user to connect with a brand more authentically.
A strategy that includes these brief contents can or lead to greater engagement and loyalty to the brand. Professionals must conceive a strategy. With ephemeral content and designed to create FOMO (Fear os Missing Out) or fear of missing something.
Finally, TikTok
TikTok, known as Douyin in China, is a Chinese social media video sharing service operated by ByteDance. Create short videos with music, lip-syncing, dance, comedy, and talent for 3 to 15 seconds and short videos for 3 to 60 seconds. It's an international version of Douyin that originally launched in the Chinese market in September. 2016. Later, TikTok launched in 2017 for iOS and Android in most markets outside of mainland China.
TikTok is one of the best ways to put your content out there to see and appreciate. It has opened doors for aspiring artists to showcase their talent and hard work. However, there is no point in making creative content if you have no audience, and that's where Trollishly comes in. Therefore buy TikTok followers from us; we will help you acquire a ton of different followers worldwide and get noticed on the TikTok community.
Also Read: Smartphone Definition – What is it, Meaning and Concept