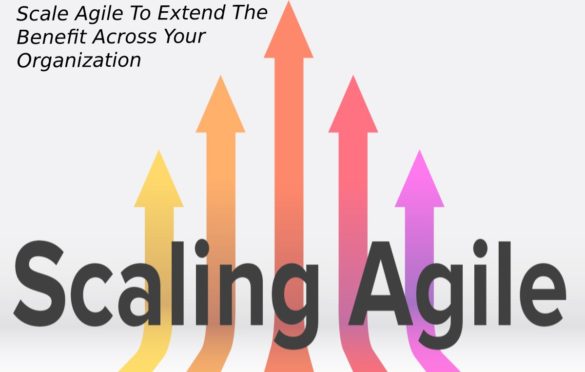 Scale Agile To Extend The Benefit Across Your Organization
Scale Agile – The current marketplace is a far cry from what we dealt with a couple of decades ago. With the evolving technology, changing customer needs, and shifting priorities, businesses have to deal with the fast-paced and rapidly evolving marketplace. For dealing with such challenging situations, firms are coming up with some innovative ideas and approaches. And one such approach that is being used by the majority of firms is the agile approach.
You might have heard about the benefits of agile from someone else, did detailed research and now thriving on its advantages. But have you thought about extending the help of the agile approach in your organization?
Your existing agile approach must be offering you competitive advantages like enhanced quality, quick turnaround time, quicker delivery dates, improved collaboration, reduced cost of development, and even better customer satisfaction. But by scaling agile, you can amplify the existing benefits of the agile approach and extend it across your organization.
Let's find out how you can do this through this blog post.
Gain Competitive Advantage by Scaling Agile across Dev and IT Yeams
By scaling agile to the entire project portfolio, you extend the perk of competitive advantage baked right into the agile approach. But this is not the only benefit of scaling agile as you are even able to offer a better focus and insights in the highest value initiatives of your firm. With this approach, you make sure that the product is working fine and every product in the market is offering you high ROI.
You can even find gaps and identify new requirements that reduce the ad-hoc project at the portfolio level. You must understand that ad-hoc projects duplicate the efforts or overlap each other, which creates confusion among the team members. And the best part is, with scaling agile, you start working towards enhancing customer value as well.
Why should the Entire Firm Adopt Agile?
If you can streamline multiple projects and assign an agile approach across numerous teams, does it also make sense to move beyond Dev and IT teams while implementing the agile approach? Absolutely, yes!
The first thing you must understand about agile is that it might have its root dug deep into the software development program, but this doesn't mean that agile is limited to software development. With a few changes, you can make agile work for even the finance and marketing departments.
Marketing and Scale Agile
We can take marketing as an example to understand the implementation of agile in a much refined manner. Nowadays, marketers are dealing on a multichannel platform like Sellbery, and everything is fast-paced. Marketers of the current era don't have the leverage to work on a single marketing campaign for months and then launch giant projects. Without innovation and speed, surviving in the current world of marketers is near to impossible.
The need of marketers might have started sounding like the Dev teams that are constantly under significant pressure to build quality products on a fast basis. Well, the situation for both the marketing and Dev team is almost the same. Even the CMOs are always under immense pressure to fuel the growth of the firm. This is where an agile transformation can prove to be a game-changer for all the CMOs looking to outperform their competitor.
You can't just design a marketing campaign, make it live on the internet, and wait for the number of visitors on your website to increase. You have to be responsive with your approach as the key to success in marketing is responding to the market changes, which is what is offered by agile transformation.
While using the agile approach, the CMOs can produce rapid campaigns that can be easily optimized and tested over time. So, you can try many things and then choose the one that works like a magic wand for your firm. This is what agile has to offer to the marketing department.
So, just like the marketing team, there are many departments where agile transformation can work like a magic wand. And by using the agile approach in all these departments, firms can identify roadblocks before becoming a real obstacle for the firm.
The agile approach works on dividing the project into different stages, and at each stage, regular feedback from the stakeholders is taken into consideration. This type of approach helps in identifying issues before the completion of the product. But if you are confining such valuable benefits of agile to the IT and Dev team only, then you are making one of the biggest mistakes of your life.
Scale agile and let other departments of your firm thrive on the unique advantages of agile. From marketing to finance, every department can benefit from agile transformation.