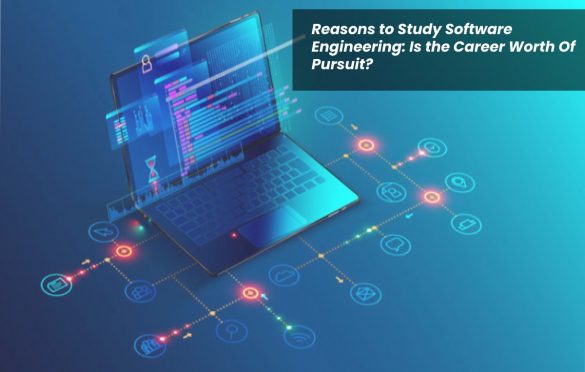 Reasons to Study Software Engineering: Is the Career Worth Of Pursuit?
Software Engineering – These days, every sphere needs software developers. When the whole world is going digital you can't simply walk past the great opportunity to find a use for yourself in the creation of apps and programs. In other words, your profession will always stay in huge demand.
Still, this is not the only reason to take up software engineering and try to build this career. For a lot of people, a big demand doesn't sound like a good motivating factor to choose the profession or at least try to learn software engineering.
So, this short article is going to dwell and expand on the causes to dive into software development.
Who Is a Software Engineer and What Is Their Role?
Now, the profession of a software engineer includes both the creative and technical side of developing software. In many cases, the job incorporates a lot of software testing and error correction so this person must be not only skilled but patient as well.
Software engineers can work in a team or solo depending on the goal they are chasing. So, this type of occupation would be suitable if you are an introvert or an extrovert. Besides, this person is supposed to deal with various tasks besides program creation. This covers upgrading existing apps,  designing additional features for them,  and checking quality.
Top Reasons to Study Software Engineering With Diligence
Now it is time to get to the heart of our article. If you are still in two minds and feel at a loss concerning your choice of occupation, that's maybe because you haven't considered these reasons that make software developing a prestigious, flexible, satisfying profession.
So, here they are.
Chance to work remotely and travel.
Since almost everything the job includes is done on a computer, you can afford to change places as often as you like and still have a stable income. This is also true about a shared workspace or your favorite cafe.
Constant Learning.
The job of a software developer won't ever let you dumb down! Continuous education, or as it is called nowadays lifelong learning is a large factor contributing to the total worth of the profession.
Software developers are always in search of more effective ways to build applications, expanding their knowledge and skill sets. For instance, mastering a few new programming languages or using new tools can turn out a good performance booster and help you grow.
Be also prepared to spend a lot of time on this learning journey. The more you work at your excellence the better products you will be able to design.
Creative Outcomes.
Just imagine – you can create any app you can fathom. Through the knowledge and proper use of coding, you make the dreams of millions come true and move forward the progress.
And even if you are still very likely to spend 90% of all time writing and improving your code, this code will finally have a creative outcome.
Building up skills in problem-solving.
If you are hungry for challenges and desperate for achieving something considerable, welcome to the sphere. As a software engineer, you will face difficult problems every day and have a chance to devise and demonstrate outstanding solutions.
Even if you cannot solve the difficult task with your own strength, there is always a chance to buy assignments online and learn from experts. Homework services for academic help such as MyAssignmentLab will let you acquire the necessary skills in an affordable and effortless way.
When a piece of your software doesn't perform the function it is meant to perform, your job is to figure out what part of code created the dead-end situation. Hence, you review everything you have done, analyze the efficiency of code, and wor at your own mistakes.
Overcoming challenges like this is a priceless skill that will be valued in any profession but most of all in program development.
High Salaries.
Good and consistent income is something that makes the job especially attractive for candidates. Only in the US, an experienced software developer earns over 108,000 USD annually and this is not the limit.
Once you establish a reputation and create your own name, expect salary growth too. The digital world is still expanding and there is always a way to perfect your skills and become even more skillful.
A lot of Career Options.
What makes the job great is the prospects to both become an individual contractor or get hired by a larger and more influential team. It is all up to your own preferences and working style – you choose the desired environment, team size, office location, etc.
Most importantly, your skills will surely come in handy in a variety of spheres: logistics, healthcare, education, science, computer game design. Besides, don't think that coding will be your lifestyle for the rest of your life; even if you start as an average coder, there are all chances to move up the career ladder and take a management position or change the sphere. You are free and can go anywhere!
These reasons couldn't be more persuasive, right? So, if the ambition of becoming a software engineer is burning in your heart and you clearly know you want this life with lots of opportunities, then study coding. Give all of your devotion to this learning, perfect your abilities, and go after the dream job because it is totally worth it.