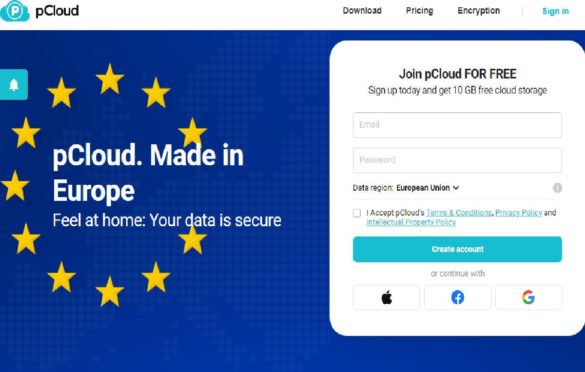 What Is pCloud And Its Features?
Pcloud
Pcloud is a globally popular cloud storage service provider. If you're already using or thinking of Pcloud, you have one more reason to love the service: with Pcloud. You can now store your data in one of your preferred server locations.
With Pcloud, you can choose where you want to Save your Data
With the latest Pcloud update, users have the option to choose their server location while signing up for the cloud service.
The servers are available in two locations: the US (Dallas, Texas) and Europe (Luxembourg).
All server locations are carefully evaluated by the Pcloud team to ensure that the locations are physically and technically secure.
Once you've selected the server location, it cannot change without your express permission. This way, you can be sure that your data files are completely safe.
Currently, the option to configure the server location is only available to new users. However, this option will be released to existing customers shortly.
Pcloud Cloud Storage Features
Some amazing features of Pcloud are …
Pcloud Rewind system to protect all your files: The Pcloud Rewind system ensures that none of your data lost by storing five copies of your data on three different servers.
High-end security to protect sensitive data: The Pcloud crypto service is one of the simplest and safest ways to encrypt data before uploading it to the cloud.
File management on the go – One of the best features of Pcloud is its cross-platform availability. This includes Windows, Mac, Linux, and even mobile operating systems like Android, iOS, and Windows.
Easily transfer your files from other online platforms: Pcloud allows you to share your data from many third-party services such as Google Drive, Dropbox, Facebook, Instagram, and Picasa.
Data protection without your knowledge: Neither Pcloud nor any government agency or service can access your files because Pcloud does not save the encryption key. So you are the only one who has access to your account.
Is your data safe with Pcloud?
Yes, Pcloud is one of the most secure and reliable cloud services currently available. The fact that it based in the EU, known for some of the strictest data protection laws. Makes [Pcloud] a great cloud storage.
It has almost all the features you need to store personal or company data. The user-friendly interface, available on all digital platforms, and compliance with Swiss laws, make it one of the best data storage solutions. The other option to choose where to save the data is another bonus.
Conclusion
Pcloud is the industry's leading cloud service with world-class data protection and security features. The latest update for users to choose their server location shows that [Pcloud] is committed to protecting data and giving it freedom.
The price for [Pcloud] is very reasonable: $ 175 for 500GB and $ 350 once (you only pay once, but you use it for life!) For 2TB of storage. You can sign up for a free personal account and get up to 10GB of free cloud storage by inviting your friends.
Also Read: Telecommunications Networks
READ MORE:- beingnathuman
Check out: VGA Cable Write for Us, Submit Post, And Advertise with us, Guest Post, Contribute.