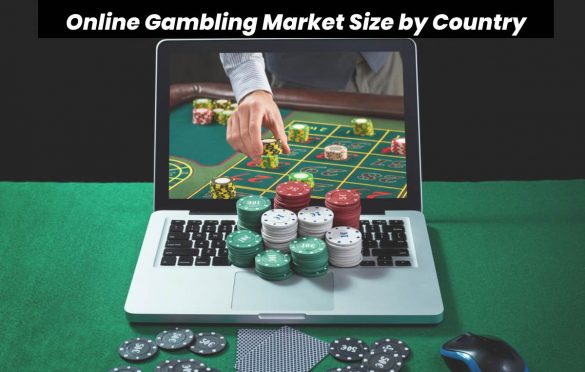 Online Gambling Market Size by Country
Online Gambling has become a common pastime for many people around the world, especially those in developed countries like North America, Europe and Japan. The popularity of online gambling has increased over the years due to its simplicity, convenience and independence from traditional casinos.
Also, the COVID-19 epidemic changed the environment in the major gaming nations of the world. Gambling revenues markedly expanded, and it appears that the numbers will continue to grow into the near future. The major gambling nations now generate over $200 billion in revenue, according to data from the gambling industry, yet not all of them charge taxes on the money made from casino gaming.
Players' interests are also sparked as online gambling software providers invest heavily in cutting-edge technology and online casinos with no deposit bonus to enhance the overall gaming experience for their customers. The growing number of sports fans worldwide has contributed to the rise in the popularity of sports betting. There are a lot of bets on sports like boxing, baseball, football, and hockey in the industry.
These data on online gambling are a result of exciting new developments in technology, such as live casino products.  In this article, we are going to look at online gambling market size and the factors driving the growth,
Online Gambling and Betting Market Size:
The market for online gambling was estimated by Grandview research to be worth USD 57.54 billion in 2021, and it is anticipated to grow at a CAGR of 11.7 percent between 2022 and 2030.
Also, according to research analysts at globenewswire, the online gambling and betting market is predicted to increase at a CAGR of around 10.9 percent over the next five years (2022-2028).
The Online Gambling & Betting Market is expected to be around USD 61.5 billion in 2021 and USD 114.4 billion by 2028.
Australia and New Zealand Gambling                                                  
This area is one of the best players in this industry and has been in the news frequently. The countries' online casinos are authorized, offer sizable game libraries, and some are global. Additionally, players from all across the globe are welcomed. For players searching for a safe yet thrilling gaming experience, the reviews of the top online casinos are provided.
Canadian Gaming
There is such a large online gambling market in Canada that every adult gambler loses at least $568.00 every year. Although the national lottery remains popular in this country, gaming casinos are currently legal and supervised by regulatory agencies. 
Europe
In 2021, Europe had a commanding global market share, with a value of USD 23.63 billion. The legalization of gambling in many European nations, including Italy, Malta, France, Spain, and Germany, is to blame for the growth. Faster internet, the growing popularity of online casinos, and an increase in smartphone usage are all contributing factors. In addition, the UKGC (U.K. Gaming Commission) enacted the Gambling Act 2005, allowing businesses to advertise their gambling websites and extend the regional market.
Asia
In Asia-Pacific, the market's rise is attributed to the rising number of Esports and other athletic events in Asia. Over the projection period, the area is predicted to increase at a CAGR of nearly 13%. The region's development is fueled by a growing number of people using mobile phones and the internet for pleasure. As gaming technology, high-speed networks, and low-cost, easy-to-access internet data continue to advance, developing countries like India and China are entering the market.
What Drives the Market Growth?
The market is being driven by expanding internet penetration and a rise in the number of people using their mobile phones to play video games both at home and in public. In addition, factors including legal and cultural acceptance, simple access to internet gambling, celebrity supports, and endorsement deals are promoting industry expansion. The industry is expected to grow more as a result of the affordable mobile apps that are readily available everywhere.
Internet Popularity
Online casinos have thrived because of the increasing popularity of the internet. As the number of people with smartphones and access to the internet rises, so does the number of people who use the services offered by virtual platforms.  Furthermore, factors such as the growth of online gambling apps, online betting offerings, and the increase in customers' disposable income are projected to drive market development.
Mobile Telephony
Mobile phone technology advancements have produced stunning smartphone gaming images, enabling more people to participate in online gambling. The availability of mobile gaming further enhances gamblers' convenience. Consumers should thank low-cost smartphones with high-end features like improved graphics and more storage space for the market's expansion. Mobile online gambling has many perks, such as loyalty points, extra deposit choices, and multiplayer gaming opportunities.
Technology Development
As the number of online casinos grows yearly, efforts are being made to enhance the digital environment to gain the public's confidence in the online betting industry. For example, in gambling, virtual reality (VR) provides the simulation of surroundings, and users may genuinely interact with them using specific equipment such as gloves with sensors. As well as providing a more realistic gambling experience, virtual reality also allows players to engage with their fellow bettors and the dealer. Virtual reality (VR) has aided the gaming industry by generating new development prospects.
Cryptocurrency Integration
Finally, the widespread acceptance of bitcoins has led to a rise in the number of people using digital currency for online gaming. Leading online gambling companies to innovate to distinguish and tailor their products for prospective customers. These organizations rely heavily on mergers and acquisitions, new releases, and partnerships to build and compete in the gaming business. Now you know how big the online gambling market size is!