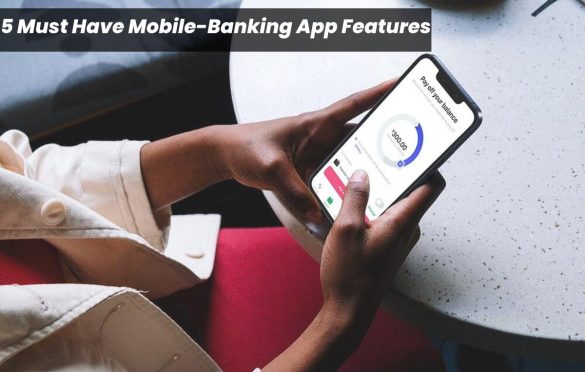 5 Must Have Mobile-Banking App Features
Mobile-Banking App – Modern banking institutions are significantly different from the prototypes that existed only 20 – 30 years ago. For example, suppose earlier depositors or borrowers had to come to a bank branch, call an operator to check their balance, or conduct some transactions today. In that case, these options are carried out via the Internet.
If relatively recently, the first, most progressive, and large banks offered the use of mobile applications as an additional option, today, financial software development services are the basis of working with a financial corporation, and all other ways of interacting with customers are gradually fading into the background.
Modern mobile applications provide many opportunities for each user who has a personal account registered in the system. Below are the 5 Must-Have Mobile-Banking App Features that are the standard for quality customer service today.
Direct transactions using the P2P method
Increasingly, users of banking services require non-cash transferred funds without withdrawing cash. Instead, these transactions are carried out to replenish other third-party accounts and pay for goods and services, including government institutions' needs.
Today, banks do not need to have reserves to carry out such transactions since many of them offer a convenient P2P service, namely, a trading platform where actual users of the system find each other to exchange banknotes.
The Bank, in turn, ensures secure control over private transactions without prejudice to the rights and interests of each participant in the forthcoming transaction. Moreover, such transfers are often carried out without commission, which increases the comfort of using the service.
QR code application and hidden banking
Most modern mobile banking applications offer convenient QR codes. Each user has a camera on their smartphone that scans this code in a non-contact way.
The code contains the identification data of the upcoming transaction or information about the system user's account. In modern banking, QR codes are widely used when transferring funds or making purchases through online services.
Getting advice and answers to the FAQ, conducting transactions using a voice assistant
In modern banking, when installing a mobile application, users do not even need to use the touch keyboard. This is because the voice assistant is gaining more and more popularity, which allows you to transfer money to the correct addressee without any difficulties quickly.
According to statistics, such voice services and payments are a mandatory attribute of a mobile application for any major bank worldwide, and more than 30% of these financial institutions are already implementing this option.
BNPL service with deferred payment system
The system of express credits allows consumers, who are the bank's clients, to equalize the purchase, and the bank will pay for it from its own reserves. This service is similar to issuing a credit card when a bank client's grace period for interest-free debt repayment is valid.
Thus, the user cannot postpone the purchase of an essential product for him until the money is credited to his account but make an overdraft purchase and then replenish his balance after a particular time.
No need to use a plastic card to withdraw cash
This function was generated by the coronavirus pandemic in the world when people began to use ATMs less due to the need to contact its control panel.
When using a mobile banking offer, a unique code is generated for each planned transaction, which provides a remote connection with the controlling system for cash withdrawal. Communication with a bank or a cash point is carried out through the built-in Internet on a mobile phone or tablet.
What other options does Modern Mobile Banking Offer?
Modern mobile applications that allow users to control their accounts and transactions remotely also provide a number of other convenient and practical features, such as:
Blocking scammers or unreliable suppliers of goods, and services, creating a black note with the transfer of warning information to other users.
Creation of an electronic piggy bank with an emergency reserve of funds to ensure their safety and use in emergencies.
The connection of mobile banking with a satellite navigation system is essential for residents or guests of megacities. People no longer have to look for an active ATM on the street since all information about the exact location of the machine and the restrictions in its operation can be obtained through a smartphone.
In addition to the options listed, each bank often offers customized features and convenience to its customers as financial institutions compete for each customer. In some countries, some banking institutions do not have their own offline offices but transfer all their services to mobile applications. Such banks remain reliable, have the appropriate license, conduct all transactions for customers, and deliver plastic cards or other products by their own couriers.
Goals and Benefits of Mobile-Banking App Development
Most of the major banks around the world are actively improving their mobile applications, increasing the level of protection for customer accounts, as this allows you to get many benefits, such as:
Reducing the number of service personnel ultimately leads to lower commissions and the emergence of more profitable customer applications.
Interactive, convenient mobile applications attract young clients of a banking institution, increasing banks' capitalization level.
The development of active competition between various banking institutions leads to the emergence of new convenient features, increased customer security, and new opportunities and innovations in this field of financial services.
The bank's client receives real-time notifications about current changes, exchange rates, and new bank offers for loan programs, deposits, and other services in high demand among the population.
New Mobile-Banking App services, implemented as electronic applications for most modern devices, appear almost every month. When any innovative option appears at one banking institution, in a few weeks or months, this idea is implemented by other credit institutions. This leads to the stem growth of the global banking system, the simplification of transactions, as well as saving time and cost on the part of the bank client and eliminating the risk of third-party cyber-attacks.