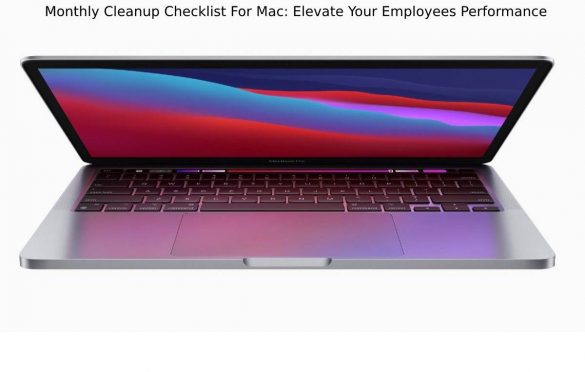 Monthly Cleanup Checklist For Mac: Elevate Your Employees Performance
Monthly Cleanup – Technology helps in improving the efficiency of the employees. There is no doubt in this statement.
It helps in saving time, reduces costs, and provides better quality work. However, it is also true that every technology needs regular repair and maintenance, especially those devices which are used every day, i.e., Macbook. Otherwise, it might affect the progress of your organization.
Therefore, you must educate your employees to do a monthly cleanup of the Mac. It'll ensure that the device works smoothly, and it'll also elevate the employees' performance.
Having said that, let's scroll down to learn the monthly cleanup checklist for mac.
System Updates
First things first, you need to look for the system update in macOS. It'll ensure that the system is free from any malware, thus protecting its data. Moreover, it'll ensure that the system is working smoothly and providing the best user experience.
To update the system manually:
Go to "System Preferences" > Click "Software Update" > Click on "Update Now."
To update the system automatically:
Go to "System Preferences" > Click "Software Update" > Select "Automatically keep my Mac up to date."
You can also set advanced update options.
Click "Advanced" > Select "Check for updates" > Select "Download new updates when available" > Click "Ok"
It'll help in saving time and will also ensure that the work doesn't get disrupted.
Clean Unnecessary Files
One of the major causes of lagging systems is the unavailability of required space. Therefore, it is essential that your employees clean their respective systems regularly. It might look like a daunting task. However, it is quite easy.
All you and your employees need to do is delete unnecessary/ temporary files, cache files and uninstall unessential applications. It'll help in creating more space and improving the overall performance of the system. Moreover, it'll help in keeping your hard disk more organized.
Navigate to Go > Go To Folder > Type "~/Library/Caches" > Click Go > Select all the files in cache folder > Drag them to Trash > Empty Trash.
Perform A Full-system Scan
If you believe that mac doesn't get malware, then sorry to say, but you are wrong. Just like any other device, a Mac is also vulnerable to malware. Therefore, you need to ensure that your corporate data stays safe and protected. Fortunately, you can do that by running a full-system scan regularly and updating security settings.
Go to "System Preferences" > Click "Software Update" > Click "Advanced" > Select "Check for updates" > Select "Install system data files and security updates" > Click "Ok."
Repair Disk Permissions
Generally, macOS automatically scans the permissions related to system files and fixes them in case of any discrepancies. However, sometimes the system requires a tune-up of sorts. It helps in improving the performance of the device and keeping the device safe.
Choose Go > Utility > Double click "Disk Utility" > Select the disk from left pane > Click the First Aid Tab > Click "Run."
To sum it all up!
By doing a monthly clean-up, you'll be able to improve the device's performance which will ultimately help the employees. Fast processing and malware-free systems will help improve the overall quality of work. It will save time and resources, thus elevating employee efficiency.