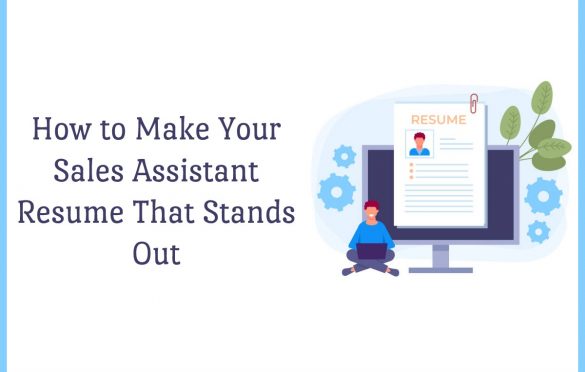 How to Make Your Sales Assistant Resume That Stands Out
If you're looking for work in the sales industry, you need to take every possible step to ensure that your resume stands out by presenting your special skills and experience. You can convince hiring managers that you are the best candidate and get their attention by creating a strong sales assistant resume. This post will provide a sample sales assistant resume and tips on how to write an ideal resume for the position.
Selecting The Ideal Format For A Sales Assistant Resume
There are three standard resume types for sales assistants that you can select from. Depending on your years of experience and whether or not you are changing industries, the best format will vary depending on your specific situation.
The finest candidates for reverse chronological resumes are experienced sales assistants dedicated to their field. The experience section occupies most of the page, and its bullets list your duties and accomplishments along with associated figures and outcomes.
Less experienced job candidates or those switching careers often use functional resumes. Because they are accustomed to the traditional chronological alignment, most recruiters do not favor this approach. Functional resumes put your abilities and your experiences in the spotlight rather than a list of your previous jobs.
Candidates with expertise in both established and newer sales jobs and those looking to make a career shift can benefit from using hybrid resumes. They blend the best of both worlds, most frequently in a double-column arrangement where one side of the text is concentrated on your experience while the other is focused on your abilities, strengths, and happiest moments.
Concentrate On Your Working Experience
Make sure the experience portion of your resume is the strongest. This position frequently precedes academic achievements, making it a fantastic area to have close at the top of your resume. List each position in your experience section, going from the most recent to the earlier positions.
Include the company or store's name, address, the dates you worked there, and your position or role. When stating your employment dates, be specific. Aside from the essentials, you should briefly define your key responsibilities in each role. If you can't account for every position's exact data, ensure the three most current positions include all the most critical information.
Focus On Your Sales Skills
Effective sales associates are valued for their strong set of sales talents rather than their educational background or prior employment history. Make sure to include a thorough skills section on your resume when putting together an application for a sales position that precisely targets the qualifications the employer is seeking.
If you're unsure of the capabilities you should emphasize, start by reading the job description for the position you want to fill and note the skills given in the "Requirements" section. The following is an illustration of a comprehensive resume skills section that highlights highly marketable sales associate talents:
Customer Service: Capable of understanding and meeting the demands of the consumer.
Product knowledge: Knowing the most recent sales industry trends and being able to inform them about your brand.
Sales: Ability to upsell clients utilizing the data obtained while supporting them, resulting in an increase in sales.
Merchandising: Have a thorough understanding of effective merchandising strategies and inventory management.
Basic Math Skills: Capable of calculating the overall price after accounting for sales, discounts, and promotions.
Add Hard Figures To Your Achievements
Unless you are seeking your first career, you will likely already possess the essential experience for a sales associate position. The most excellent method to differentiate yourself from others with your experience is to quantify the accomplishments you earned at work.
It is crucial for a sector like sales, which bases its success on money value. You can prove your worth as a potential new sales assistant by detailing your past successes in the field, such as the amount of money you made for the company, the amount of time you saved, or the number of people you trained.
Describe Your Educational Background
You can approach your education area similarly to your experience section by arranging your list by the most recent degree, diploma, or certificate obtained. Include the institution's name, enrollment dates, and graduation date. You can also add your GPA if you think it's relevant. You might also mention any honors or distinctions you received as a student, along with an explanation.
Key Findings
A sales associate contributes to a customer's excellent shopping experience and, as a result, increases store sales.
Your resume is an effective tool for outlining the skills you will offer to the position of sales assistant.
Even the best sales assistants ought to be able to seek help; look at a great template of an adaptable sales assistant resume!
In Conclusion
Your Sales Assistant resume must stand out for many logical reasons. That entails showcasing your personality in addition to your professional background. When a candidate comes out as authentic and not fake, employers are much more likely to recall them