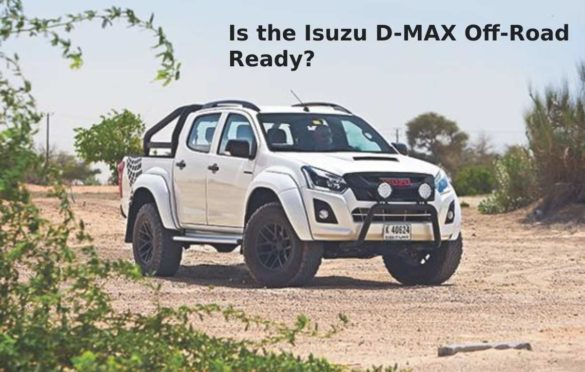 Is the Isuzu D-MAX Off-Road Ready?
Isuzu D-MAX – When it comes to off-road vehicles, there is no shortage of them. But what about when you're ready to purchase one and can't decide which off-road vehicle fits your needs and wants? This is where the Isuzu D-MAX comes into play.
The Isuzu D-MAX is designed to handle the world's toughest terrain and has everything you want when it comes to style, comfort, and safety. The D-MAX is the epitome of long-lasting performance and durability.
Off-Road Performance
The Isuzu D-MAX comes with a 3.0L turbo diesel engine, which delivers 140kW of power and 450Nm of torque, which allows for a large towing capacity without burning any excess fuel. You can select from either a 6-speed manual or 6-speed automatic transmission. These factors combined allows the D-MAX to balance both power with fuel efficiency. The D-MAX's performance features enable it to outperform other vehicles in its class on any terrain. This includes hills, dirt roads, freeways, mountains, gravel roads, muddy terrain, and much more.
Awards
In 2021, the Isuzu D-MAX won the coveted Drive Car of the Year award. This is a huge achievement and something any prospective vehicle owner should keep in mind. Not only did the D-MAX win Drive Car of the Year, it also won Best Dual Cab Ute of 2021. If you're looking for an off-road vehicle with impressive credentials, the Isuzu D-MAX should be at the top of your list.
Design
The Isuzu D-MAX was designed to draw attention. This isn't your average off-road truck. It's sleek and modern design is sure to turn heads while its rugged off-road capabilities define its signature toughness. The underbody of the truck provides protection from rocks and debris. The modern interior of the D-MAX is spacious and designed with your comfort in mind. Additional design features include dual-zone climate control, terrain command, adaptive cruise control, rear differential lock, and more.
Technology
The technology of the D-MAX is one-of-a-kind. Its advanced technological improvements and features are designed to make your driving experience easier. The truck comes fully equipped with Apple CarPlay® and Android Auto™, Intelligent Driver Assist System (IDAS), walk away door lock, coming home lights, Digital Audio Broadcasting (DAB+), voice recognition, and more.
Safety and Reliability
The most important feature potential car owners want is safety. The Isuzu D-MAX boasts a five-star safety rating and cutting-edge safety systems. Every Isuzu D-MAX comes equipped with a vast network of safety features. The Intelligent Drive Assistance System (IDAS) comes standard in every D-MAX model, and uses passive and active systems to keep you and your passengers safe. IDAS uses top-of-the-line sensors to monitor your surroundings. The D-MAX was also tested to the 2020 ANCAP criteria. This criteria is one of the most rigorous and strict in the world and the D-MAX passed with flying colors.
If you're in the market for an off-road vehicle that also provides a sleek look and feel, don't look any further than the Isuzu D-MAX. Built to handle touch terrain and made to turn heads.