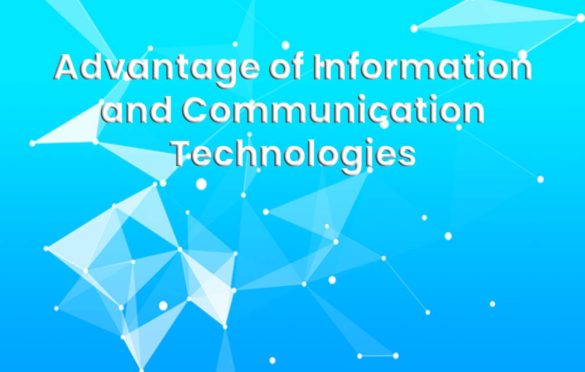 What are Different Advantages of Information and Communication Technologies and how to take advantages in your company?
Advantage of Information and Communication Technologies
Decision Making
The advantage of ICTs in companies is that they highly facilitate informed decision making and based on actual data provide by new technologies.
Companies can take advantage of opportunities and face market threats more efficiently.
Using key resources, such as business management software or social media, big data, or artificial intelligence, allow data to be accessed and interpreted to convert it into valuable information.
Internal and External Communication
The advantage of ICT in business is the improvement of communication, both internal and external.
New technologies allow companies has to be connected in real-time on many courses with customers, suppliers, investors, partners, etc. on a system never seen before.
This improvement in communication can positively influence results and productivity, bringing customers closer, and integrating their feedback into decision-making, if managed correctly.
Customer Satisfaction
Information and Communication Technologies allow to precisely know the tastes, preferences, and needs of customers, allow companies to offer highly personalize products and experiences, and rectify or adapt their strategy in almost real-time based on changes in the market users or the environment.
Companies can also find out what their preferences, purchasing habits, etc. are—thus designing effective strategies to obtain maximum satisfaction.
Company Image
One of the most frequent advantages is the best of the company's image. The correct implementation of ICT solutions and an improvement in communication provides a more advanced and innovative model of the business, which positively influences customers' purchase decision process.
Management Process
Finally, regarding management processes, new technologies allow considerable savings in both time and money in carrying out tasks, greatly simplifying processes. Actions mainly as planning or time management are carried out more quickly and, above all, more efficiently.
How to Take Advantage of ICT(Information and Communication Technologies) in Companies?
The advantages of ICT in the business field must be known. It is essential to highlight the main keys to take advantage of the markets opportunities they offer.
Internet and RRSS: companies can manage two-way communication with their target audience, thus offering a closer and more transparent image. This has a significant influence on their confidence, which favors the creation of long-term relationships.
Relationship Marketing: With the internet and social networks, companies can relate to their customers differently from what they have been doing until now. They offer users a place where they can comment on their impressions, exchange ideas, or make suggestions.
Customer needs: Marketing for the 21st century is based on adapting the company's products and services to the specific needs of customers, and not the other way around. Thus, thanks to ICT(INFORMATION AND COMMUNICATION TECHNOLOGIES ) in business, companies can find their target's needs in detail.
Collaborative work: the implementation of ICTs must be aim at combined work, reducing costs, and project management. They most facilitate internal communication, as well as coordination and collaboration between the different work teams. Also, they considerably speed up decision making.
Resources and Markets of Information and Communication Technologies
Currently, the introduction of ICTs in companies mainly aim at Small and Medium-sized Companies in Spain. A high percentage of SMEs have their corporate website, profiles on social networks. Still, considering the demands and needs of the current market. The road that remains to travel about ICTs in business is very long.
One of the important objectives in the short and medium-term is the training of employees and work teams about Information and Communication Technologies. Similarly, in many SMEs, it is necessary to implement software programs and other Cloud Computing solutions.
ICT systems are an essential tool in current businesses and companies.
A wide range of factors intervenes in the implementation of information systems. Human capital is one of the essential ones. In various cases, it is the employees themselves who are capable of adopting new procedures. That is why it is so necessary to establish a strategy.
Also Read: Steps to Configure a New Router from Scratch