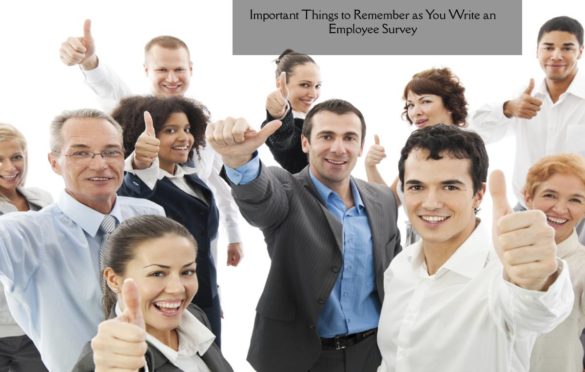 Important Things to Remember as You Write an Employee Survey
An employee survey can be an extremely beneficial element of managing your company. However, many managers don't know how to write employee survey effectively, which means they can waste some of the effort they put into employee surveying. If you do it properly, it's possible for you to get plenty of information. Here are a few things to think about as you write your employee surveys.
1. Employee Surveys Help Your Company Directly
First of all, remember that employee surveys are a direct benefit to your company. In general, employee surveys help your company maintain an understanding of how the company functions and they can give you a competitive edge over other companies in your industry. You're writing the survey for both yourself and for your employees, which means the time you put into it is valuable.
2. Anonymity Is Crucial in Employee Surveys
Employees are much more likely to respond truthfully to surveys if they know the survey is going to be anonymous. While calling employees directly or requiring that employees put their ID number into a survey can give you more data points, it also means the employees might not give their truthful feedback because they're worried about retribution. Maximize anonymity if at all possible.
3. Few Employees Want to Respond to a Survey Only for the Company's Benefit
Even though the employee survey is primarily for your company's benefit, remember that your employees typically won't want to take time out of their day to respond to a survey if the only stated benefit is for the company. Employees want something more to entice them to respond to the survey. Consider offering benefits like a gift card drawing to anyone who completes the survey, as this may be enough to entice people to participate.
4. Third-Party Survey Tools May Be Your Best Option
This often goes along with the anonymity request. Sure, an in-house survey tool may be a great way to gather information, and third-party survey tools may have moderate fees associated with them. However, if you use a third-party survey tool that prioritizes anonymity, your employees will know that there's truly no way to have the tool track them, making it more likely that they'll respond. Plus, third-party tools often have built-in measures to help you understand responses more easily.
5. Implementing Requests Will Maximize Future Responses
Every time you do an employee survey, you're giving your employees information about how you'll respond to future surveys. Continuing to ignore employee requests will make it more likely that employees will ignore future surveys, as they won't feel like you care about their well-being. The more requests you proactively respond to, the more employees will feel compelled to share their needs.
Conclusion
Writing an employee survey doesn't have to be difficult. As a matter of fact, there are many ways to make sure your employee survey works perfectly. Maximize your employee survey response rate by keeping these things in mind as you write the survey.
Check out: HDD Write for Us, And Advertise with us, Submit Post, Contribute, Guest Post.