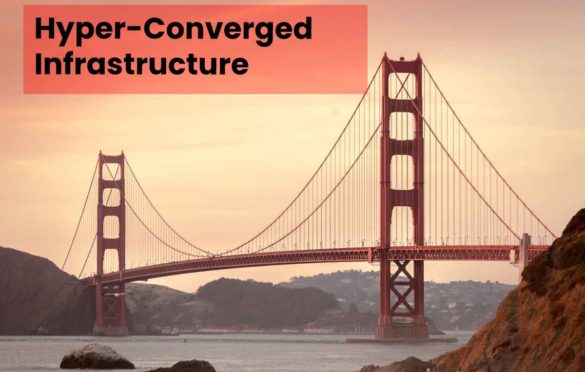 What are Hyper-Converged Infrastructure & its Advantages?
Hyper converged Infrastructure is a new generation of cloud IT architecture that is complex with multiple silos of computing, storage & networking. It is a one-stop software-defined data center solution with an easy-to-manage policy. It is the best solution to build an enterprise cloud delivering with the simplicity and agility of public cloud services. For easy and quick deployment it is a reliable cloud management system.
You need an HCI that is a cost-effective tool for mission-critical applications. If in case you are looking for simple, on-demand solutions for continuous business growth opting for The Hyper-converged Infrastructure solution is the best option to go for. In this technology, updated, and the digital world doesn't wait on the IT infrastructure that can support your modern application demands but adopt HCI without losing control, or without any compromise in security.
But make sure to choose the high-performance solution that will drive your business from the data center to the edge. Thus, get started with us at Sangfor for disaster recovery, decrease data center complexity & increase scalability for sure.
What Is Hyper-Converged Infrastructure?
Hyper-Converged infrastructure (HCI) is a software-defined simple, on-demand solution for continuous business growth that combines all the elements of a traditional data center that involves:
Storage
Compute
Networking
Management.
With the help of Hyper-Converged Infrastructure, you can decrease data center complexity and increase scalability. Adopting HCI without losing control or without compromising security. So, if you are willing to build a private cloud with low cost and more privacy, going for the Sangfor
HCI is one of the best options to pick for. Eliminate manual or traditional processes with simple, unified management of resources that will result in providing more managed resources and improve storage capabilities.
Biggest Benefits of Hyper-Converged Infrastructure in 2021
Every organization needs faster and reliable storage thus to simplify this concern the Hyper-converged Infrastructure provides a path to secure, monitor, and manage resources. Also, HCI simplifies management, consolidates resources, and reduces costs by combining compute, storage and networking into a single system.
So, for modernizing the data center for agility, scalability, cost-efficiency & rapid business support mentioned are the topmost advantages of Hyper-Converged Infrastructure:
1. Increased IT Efficiency
One expertise can handle, monitor, and manage resources and improve storage capabilities. With the help of hyper-converged, IT resources dynamically deliver the right amount of capacity, performance, and protection to the business. Thus, you can get the opportunity to scale your operations with a lot more efficiency.
2. Better Storage at Lower Cost
By using HCI you can easily scale-up/scale-out architecture that requires only to meet the industry-standard x86 servers. It is non-expensive & purpose-built networking that simply adds the required capacity with no disruptions. Also, with the help of Hyper-converged, you can avoid vendor lock-in and eliminate over provisioning which will reduce the infrastructure spending across your data center.
3. Greater Ability to Scale
HCI is more responsive to rapidly changing business needs. You can set up this hardware within a few hours and easily spin up workloads in minutes. Easily accelerate the performance of business-critical applications and scale up and scale out for easily meeting the specific application needs.
Select the Best Sangfor Hyper-converged Infrastructure product for your business
The flash, cloud-enabled, scale-out and software-defined technologies of the Sangfor HCI are a powerful solution for business growth. Also, By adding it to your business you can easily accomplish complex workloads with ease and agility. So, if you want to operate more efficiently opting for HCI will be the best business option for you.
Get the Flexible Deployment Options for meeting your environment and workloads
Less complex and Powerful Infrastructure for delivering cloud-like agility & scalability with data protection
And also, Sangfor HCI is single-point-of-contact support for hardware, hypervisor, and software
Wrapping Up
We hope that you have got the right idea and information regarding the –converged Infrastructure. Also, by ensuring consistent operations with a consistent infrastructure for the best hybrid cloud experience we are the pioneering brand for delivering the HCI- The Hyper-Converged Infrastructure Solution.
So, if you are also willing to get the single IT Platform choosing Sangfor will be a great option for you. We provide a simple and easy approach along with full coverage and a unified management system. Also, get higher performance with data striping and data optimization. For more detailed information and knowledge get in contact with us at Sangfor, we are always there to guide & assist you.