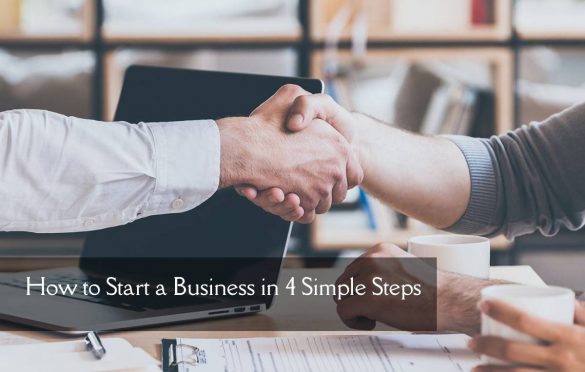 How to Start a Business in 4 Simple Steps
If you're interested in starting a business, there are a lot of steps you're going to want to take. The process of starting a business can be extremely overwhelming, which means that some people never get their projects off the ground simply because they don't know-how. The good news, however, is that it's fairly easy to understand the process of starting a business. Here are four simple steps you can take to start.
1. Come Up With Your Business Idea
Obviously, you need to have a business idea before you can start a business. This isn't just about creating the vague idea of your business, however. You also need to generally flesh out the idea of your business. If your business idea is "Selling custom-made T-shirts," this is the part where you decide how you're going to print them, how you're going to have people submit designs, and whether you're going to stick to just T-shirts or you're going to print on other products.
2. Create Branding
The next step is to create the branding associated with your business. First and foremost, this means coming up with a name. However, the name is not the only part of your branding. You also need to come up with things like official colors, official fonts, and what you want the "feel" of your business to be like. While large companies will often hire entire design studios to do this, you can do it by yourself as an entrepreneur as well.
3. File Legal Paperwork as Necessary
Some smaller companies may not have to file legal paperwork to have the government recognize their company formally, but larger companies will definitely want to make sure they're filing all their legal paperwork. Additionally, if you have any proprietary software or ingredients, you're going to need to file paperwork to protect those, as well. You should file any and all legal paperwork before you launch your business.
4. Determine Your Funding Choices
Funding can come from many sources, and many people prefer to pay for small business funding in cash so they don't go into debt. However, this doesn't take into account some of the benefits that a credit card can provide for entrepreneurs. When you're first starting up your business, you may want to look into options like Chase Bank bonuses, which can give you a statement credit when you make a certain number of purchases within a certain period of time. Using a credit card to the best of its abilities can improve your business rather than crush it.
Conclusion
Starting a business is not necessarily simple, and each of these steps may entail a variety of "sub-steps" that you'll have to use. However, this at least lays out a roadmap for you to start your business. No matter how you end up doing it, starting a business can be a great way for you to express your most creative instincts and become an entrepreneur for yourself.