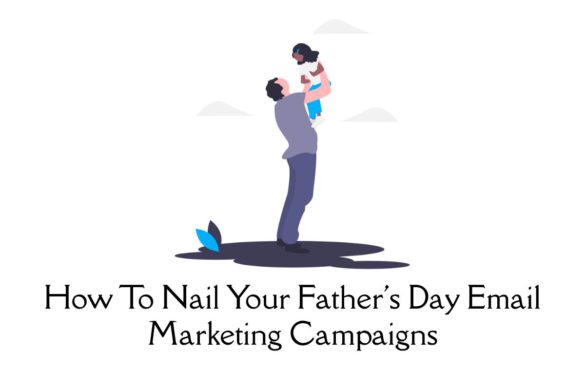 How To Nail Your Father's Day Email Marketing Campaigns
Google Trends data shows that the search activity on Father's day is trending upward year-over-year. It is celebrated on the third Sunday of June, and it's attracting more attention from marketers since it's the only sales opportunity packed between two major sales seasons of the year. It may not be as big a grosser, but still, it is sizable, with revenue standing at 16 billion in 2019, and despite a raging pandemic in 2020, people were expected to spend 17 billion.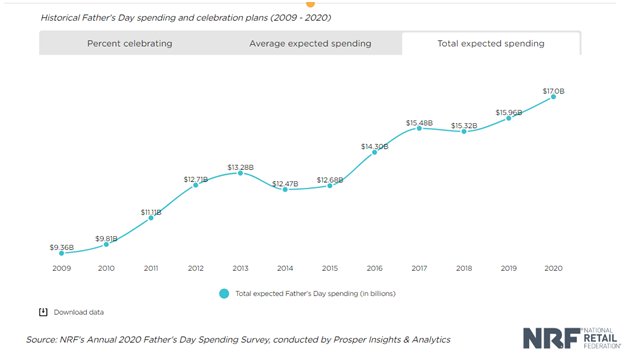 Here are my two cents on nailing your Father's day campaigns:
Craft Catchy Subject Lines For Father's Day Email Campaign
Your message will have to compete with hundreds of other emails, including your competitors running their Father's Days campaigns. One needs to keep in mind that 35% of email recipients open messages solely based on the subject line. Father's Day email subject line should reflect warm feelings and engage your subscribers emotionally.
You will need to pour all your skills into crafting a captivating, cool, and funny subject line to complement the HTML email templates you use. When writing subject lines, you will need to take care of technical aspects such as character limit, personalization, preheader text, and make sure that it is tested to optimize for all email clients. Below are some well-crafted subject lines for Father's Day:
"Support The Man Who Supported You" from Saxx
"Uh, Oh. Forgot About Father's Day? Not To Worry. Send An E-Gift Card, And We Can Deliver Instantaneously" from Dollar Shave Club
"This Father's Day, Capture Every Moment." from Google
For marketing about your professional and select your design preferences, and the logo generator will create the perfect logo for your brand.
Use Personalization Smartly To Create A Touching Father's Day Email
Father's day celebration is an occasion of celebrating personal memories with our fathers. As a brand, you may not have any specifics regarding your subscriber's childhood and the relationship they share with their Father, but you can go ahead with the common idea of fatherly figures. Writing in a direct tone while mentioning the reader's name and using short yet emotive copy is the best way to personalize your Father's day messages.
A good idea to personalize your messages is to use hero images with the model hailing from the same age group. It helps the recipient connect with your message without you having to employ guesswork. I also find it extremely useful to send personalized product recommendations in dynamic content blocks within responsive HTML email templates. If you don't have this information available, you can go ahead with sending suitable recommendations based on their average spending habits.

Capitalize On Father's Day Special Email Templates
You can use free HTML email templates that are less cluttered compared to your other promotional emails. You need to use a minimalist theme, use white space and less copy, and use relevant hero image in such a way that it stands out. When you are using a product image, make sure you make a case that it's an ideal choice for their Father. CTA button text can be optimized for Father's Day theme when possible.
If possible, use HTML email templates designed for Father's Day because the generic design may not justify the occasion properly. If you still aren't receiving adequate engagement, you may need to restrategize. Start with narrowing down focus on Father's Day emails opening line, hero image, fonts, and color scheme.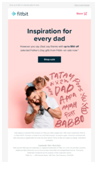 Try Using Some Dad Jokes In Your Emails And Offer Right Deals
Using dad jokes once in a while is a good idea. Generally, people take these jokes in a lighter mood. Copywriters tend to use persuasive or emotional tone in their copies in most cases, but using a humorous tone might help you get business as it cheers up your subscribers. When you use dad jokes, make sure it is palatable to a broad spectrum of audience. Region-specific inside jokes and apprehensive jokes should be avoided.
There are many free plugins accessible for WordPress. The best and possibly safest place to find these plugins is in the WordPress plugin repository.
I recommend offering products that are not only related to Dads but also affordable. You can use past sales data as well as trending products that you can offer with quick deliveries and at good prices. You can also customize free HTML email templates like the below one: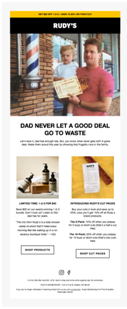 Let Your Father's Day Email Campaign Act As A Reminder
Father's Day is sandwiched between two big holiday seasons and often gets forgotten. It is not always that your subscribers forget, but a gentle nudge can help to remind them and remain appreciated by your subscribers generally. Your campaign should be designed in such a way that it starts reminding them a couple of weeks early, adding urgency in subsequent messages.
Sometimes it happens that your subscriber couldn't notice Father's Day emails; even then, feel free to remind them it is not too late to send some love to their dads. Below is an example from Dollar Shave Club that adds some urgency: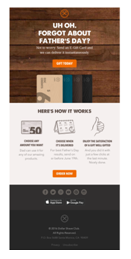 Summing Up
If you take care of the points mentioned above, you will be able to remind your subscribers about Father's Day and project your brand in good light with minimal effort. Most of them would likely appreciate this gesture as it will remind them of the relationship with their Father. Try to make your brand part of their bonding, and conversion will become a byproduct of the interaction. I hope this article has added some value to your next Father's Day email campaign.
Author: Kevin George is Head of Marketing at Email Uplers, one of the fastest growing PSD to Email coding companies, and specializes in crafting professional email templates, custom Mailchimp email templates design and coding in addition to providing email automation, campaign management, and data integration & migration services. He loves gadgets, bikes, jazz, and eats and breathes email marketing. He enjoys sharing his insights and thoughts on email marketing best practices on his blog.