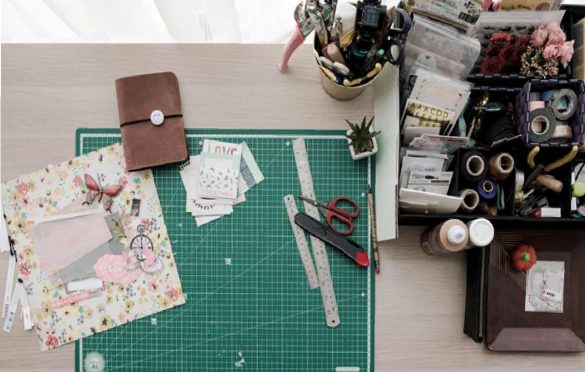 How My Wife Uses a WordPress Event Manager Plugin to Host Crafting Events
WordPress Event Manager – Since my wife and I got married for the past nineteen years, she's been hosting different events, primarily crafting, scrapbooking, quilting classes, events, and retreats. Since the beginning of all these ventures, I've helped her in various capacities by developing the websites she uses to announce her events and attract registrants.
Over the years, I have learned a lot about the needs of various events, such as getting people signed up, capturing and collecting payments, and providing options for food and sleeping accommodations. In the early stages (2002) of planning events, my wife used paper registration forms to collect information from her registered guests.
She and I spent hours, upon hours, at the computer using Microsoft Word to create forms to print out at the nearest local printer or Kinko's. The forms would then be handed out to friends and family and either returned right away or mailed to us with cash or a check. However, every once in a while, one or two people "forgot" their payment, which always caused friction in the process. Not to mention the multiple trips to the bank to deposit checks, to then turn around and use the funds on your debit card to pay for materials and venue rental.
Using WordPress Event Manager to host events and capture registrations
WordPress Event Manager, fast forward to the present day, and you'll see a plethora of online event ticketing options available. Usually bundled with multiple tiers of payment processing fees, extra costs, and after-marketing to your attendees. However, free-to-low-cost options are available if you're willing to rent server space, set up WordPress, and install some plugins.
Read on to learn more about implementing a WordPress event manager plugin to build an event management system for your crafting, scrapbooking, and quilting events.
Create a registration system on your WordPress website
A WordPress event manager plugin can help you quickly set up a registration system for your classes, events, and retreats. Here are the three critical parts of a process to collect registrations from attendees.
Set up a registration page.
Create a registration form.
Hosting a paid event? Connect a payment gateway.
Set up a registration page
A registration page has one primary purpose: encouraging a registrant to start booking a space at your event. It does that by providing details about an upcoming event and the various options available. Mainly, document management assists the process eventually better.
The main areas of a registration page are:
– Event title
– Event description
– Registration options
– Event date
– Event location
The registration options should be simple to understand. For instance, if you sell seats to a scrapbooking class, you could offer options, such as design and layout options, tool rentals, or lunch options. Or, if you are hosting a sewing retreat, you could provide various sleeping accommodations and sewing machine rentals during registration.
Once an attendee has selected a registration option, then it is time to collect information about them.
Create a registration form
A registration form can collect details from potential registrants. Here's an example of a registration form:
Personal questions
– First name
– Last name
– Email address
– Phone number
Custom questions
– What is your preferred meal? [] Steak [] Chicken [] Vegetarian
– What type of sleeping arrangements do you prefer? [] Bunkbed [] Single Room
– Have you participated in a retreat before? [] Yes [] No
– What quilting techniques would you like to see presented?
– Do you understand and accept the terms and conditions for the event? (link to a terms and conditions page on your website)
The first batch of questions is basic contact information. The second set helps paint a picture of who a registrant is and helps accommodations. Plus, they gather valuable feedback to help you market your event to the right audience.
Connect a payment gateway
Think for a moment about a time that you had to collect payments through checks. Do any of these sound familiar to you?
– Having to follow up about checks endlessly.
– Making multiple trips to the local bank to deposit checks.
– Creating spreadsheets and keeping notes to keep track of who has paid.
Instead, avoid the hassle and frustration of paper checks, notes, and spreadsheets and use a payment gateway. A payment gateway securely processes a credit or debit card payment. Then the funds are sent to your merchant account with a payment service like Stripe or PayPal. The funds are then transferred to your bank account, which gives you immediate access to the funds so that you can pay for expenses, such as venue rental, supplies, and food.
Email marketing for your event website
Setting up your WordPress website and installing a plugin to capture attendee registration data is only the first step. You'll want to market your event to your friends and family, and past attendees.
You could spend thousands of dollars on marketing via the web, such as placing ads on social media or using Google AdWords. Still, no one I know uses those methods anymore because they are expensive and frequently hard to use and understand for the average person.
Hence, the reason many people are still using email marketing to promote their events. However, email marketing has limitations and rules regarding spam; it's often a more effective marketing strategy because it allows you to build a reputation with past and potential attendees. Just sure that you choose the right email marketing option for your event website.
Using a service such as MailChimp
I highly recommend MailChimp for all of your email and follow-up marketing needs, as it can easily support a mailing list of just a few emails up to hundreds of thousands of email addresses. In addition to email reputation management and security, MailChimp has many built-in email templates and open-tracking systems to help you grow your list and track performance.
Using a WordPress plugin
If you have a small list of email addresses, using a WordPress Email Marketing plugin might be a great option. You might see many of the same features as using a service. However, be aware that you might not get all of the features of the primary mailing services, such as reputation management, security, and professional templates. Sometimes, plugins will connect with an outside service provider to send the emails, freeing up server resources during business hours.
Using built-in features of the WordPress event manager plugin
Again, using the features available in a WordPress plugin has limited mileage as your mailing list gets into the hundreds of thousands of email addresses. However, the WordPress event manager plugin can provide a great way to follow up with attendees about missed payments quickly, abandoned transactions, and simple HTML newsletters to announce changes and updates related to your events.
These quick follow-up emails can be generated right from your server using the WordPress event manager plugin, saving you time when it comes to logging into a third-party service such as MailChimp.
Conclusion
Remember, if you have upcoming crafting, scrapbooking, or quilting events where you need to collect custom event registration questions in a form and save money and time in the long run. A WordPress event plugin can be a great way to grow and scale your current business.
Check out: Instagram Write For Us, Contribute, And Advertise with us, Submit Post, Guest Post.