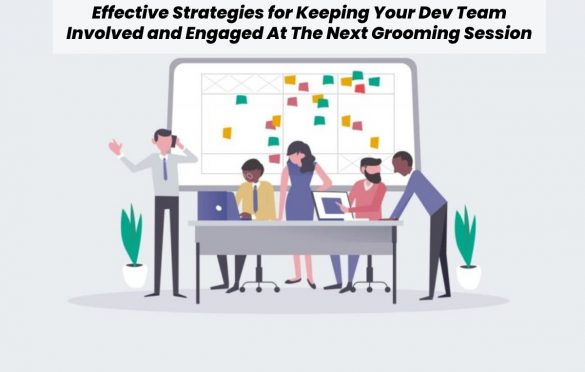 Effective Strategies for Keeping Your Dev Team Involved and Engaged At The Next Grooming Session
Grooming session are weekly meetings held during sprints or development cycles that are conducted in accordance with Agile and Scrum methods. When team members are working remotely, Scrum Masters and project managers often look for ways to increase engagement and involvement in virtual or hybrid grooming sessions. Here are the most effective strategies for optimizing grooming sessions for remote dev teams, including relevant activities, Zoom Immersive View templates and tips regarding prioritization.
Introduce Team Building Activities
Grooming sessions run longer than daily scrum meetings, which are time-boxed at fifteen minutes. Weekly meetings are better opportunities for doing activities oriented towards team building. In addition to evaluating, discussing, reviewing backlog items and prioritizing and planning for ongoing work and future sprints, teams can learn about each other's approaches to problem-solving and strengthen skills during these sessions.
Regardless of what is on the agenda for a grooming session, a Scrum Master or PM can set dev teams up for success by making sure that team members know each other and have open lines of communication. The best way to do this is to make meetings look more inviting by using branded Zoom Immersive View scenes or showing members how to add virtual background in Teams to look more professional on video calls and in meetings.
Build Team Environment with an Immersive View
Immersive Views can be a really effective way to make developers working remotely consider themselves part of a team. Zoom Virtual Office offers custom Zoom background options for video calls and conferences that display custom logos as well as Scenes for use in Immersive View mode in Zoom version 5.6.3 or later.
Some of the most popular Immersive View scenes include Open Space, Cinema, Lounge, Dining Room and Classroom environments. Meeting organizers can choose whether participants will be placed automatically or manually, select a scene and start using Immersive View in their next weekly backlog grooming session.
Prioritize the Most Important Backlog Items
The main purpose of grooming or refinement sessions is to keep the backlog current and prepare items for upcoming sprints. While backlog grooming is not an official ceremony according to Agile methodology, weekly grooming meetings offer an opportunity to reorder stories, remove outdated user stories and tasks, add new stories, break down broad stories into smaller items.
In addition to assessing the importance of items as a team, Scrum Masters and PMs can approach grooming sessions as opportunities to promote understanding and consensus among team members. These sessions can complement daily scrums, sprint retrospectives and other formal Agile and Scrum methods.
These strategies can increase engagement and drive dev team participation in backlog grooming sessions. Some strategies, such as using virtual office backgrounds and Immersive View scenes with logos to unite remote teams, can also be used during daily scrums and sprint retrospectives. Scrum Masters or PMs using these methods should time-box grooming sessions between 45 minutes up to a maximum of two hours to help teams stay focused and get more out of weekly meetings.