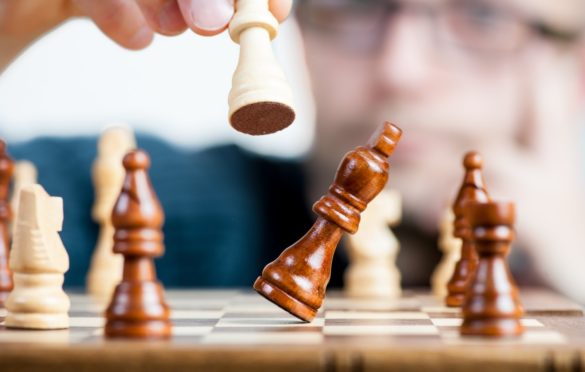 Facing Tough Business Competition? Try These 4 Effective Strategies
Business Competition – The years 2019-2020 were undeniably challenging. Global economies and businesses went through a roller coaster ride of adversities. Anyone would think that it might have been the worst time for new business startups. On the other hand, existing companies were also going out of business. However, according to SHL, 84,758 new companies were set up in the year 2020. That is 12.3% more than the new businesses in 2019 and the highest growth recorded since 2011.
This figure illustrates how the modern business environment is transforming. Even under unfavorable times like the COVID pandemic, thousands of new players are entering the market. One can only imagine how the market dynamics will shift once everything properly comes back to normal. An increasing number of market offerings create cut-throat competition. More and more players are fighting over the usual market share. Consequently, the market is becoming replete with product and service differentiation.
In such a situation, it indeed becomes challenging to acquire new customers. Moreover, retaining the existing ones has become an enormous challenge as well. The customer retention rate for most of the industries sits relatively low at around 20%. Therefore, businesses need to invest significant efforts to drive the other 80% of the customer base. However, it takes well-calibrated strategies to tackle the increasing market competition. In addition the strategy must be able to assess different market research techniques to even begin to understand how to respond to the competition.
Therefore, this article can prove to be an efficient help. It mentions four strategies that can help your business face contemporary market competition.
1.    Develop and retain valuable Human Resource
Human capital is undoubtedly the most critical asset for any business. Especially in the current times, companies should significantly invest in developing their human resource. Online learning resources like AACSB online MBA no GMAT provide an excellent avenue for employee training. With such academic programs, employees can manage work and studies, further developing their skillset. According to Forbes, companies only in the US spent a whopping $82.5 billion in 2020 on employee training. Large-sized companies like Apple, Google, Ford, and General Electric spend an average of $22 million per year on employee training. That is the reason why they continue to enjoy large market shares despite increasing competition.
The business environment is rapidly revamping. Business functions from marketing to finance are transforming with time. Thus, there are two ways; either hire new talent or develop the existing one to incorporate modern gimmicks in your business. It would undoubtedly be better to develop the current employees if possible. Once your employees possess the proper skillset, they will provide you the service output that makes you competitive in the market. Your product offerings will be of high quality yet price competitive.
2.    Identify and Develop your Niche
Air travel with luxury – Fly Emirates. Smartphones with cutting edge technology – Apple. Cars with reliability yet affordable – Toyota. These brands have created a market identity. Consumers know them and what they stand for. Their value proposition is powerful and precise. They have developed their niche and made it their distinguishable attribute. Today, however, it has become challenging for competitors to imitate these attributes. Similarly, you should identify the specialization of your business.
Identifying and developing a Unique Selling Point (USP) is essential for safeguarding the competitive position of a business. It provides a point of attraction for capturing consumers. If your USP meets a need of the market, you stand great chances against the competition. Otherwise, it won't take long for your customersto shift to your competition due to better USPs.
3.    Don't just sell products; sella story/purpose
Anyone who wears shoes would know about TOMS. The reason is not them being high-end or expensive but the purpose they sell. It is the story they built behind their brand. Thus, a customer is not just buying shoes. They're becoming a part of the larger purpose the brand stands for.
Purpose-backed market offerings build a loyal customer base overtime. Moreover, it also generates positive word of mouth for your brand andsubsequently drives higher and stable sales. It translates into the quick and easy acquisition of new customers.
4.    Provide a better customer experience
Customers don't just buy your products. They buy into the feel of it. Their overall experience during the entire buying process adds significantly to their purchase value. In modern times where online purchase interactions are increasing daily, customer experience becomes even more critical. According to a market survey by Gartner, 67% of marketers believe that their companies compete on customer experience. A surprising 81% also believe that customer experience will be a largely dominant competition area within two years.
It shows how the market dynamics are transforming. An already customer-centric market is becoming even more focused on customers. Now, the key to surviving business competition begins with understanding customer pain points. These considerations then shape customer experience to reduce barriers in a purchase decision.
Final Thoughts
In today fast-moving Business Competition business environment, you cannot rule out risk but mitigate it through a plan. Similarly, you cannot avoid fierce competition in current markets but tackle it with robust strategies. The water is red, and there are predators ready to destroy your business. You can only build your defense to avoid collapse. The tactics stated above can serve as a great help increating that defense. Modern-day companies need to study the market forces scrupulously. They must perform a practical SWOT analysis of their operational philosophy. Only then will they be able to minimize external threats and take full advantage of their strengths.
Check out: Podcast Manager Write For Us, Guest Post, And Advertise with us, Submit Post, Contribute.