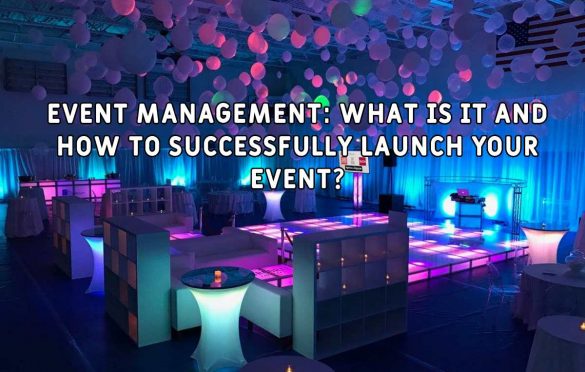 Event Management: What Is It and How to Successfully Launch Your Event?
Event management plays an integral role in organising different meetings, events, or conferences. Event planning will form a basis for getting the appropriate results despite the complex strategies and things you need to consider to achieve a successful event. From planning the events, building an event team, creating the event's budget, every organiser should choose the proper management plan to enhance the successful launch of your event.
If you're looking for a guideline on event management and the process of launching your event successfully, you're in the right place. This article will walk you through event management, what it is and how to successfully launch your event.
What is Event Management?
It's an essential event feature that includes various functions for executing different events, such as conventions, conferences, trade shows, weddings, ceremonies, or festivals. Event management involves handling different and overall event logistics, conducting project management, supervising staff, and other activities that'll make your event a success. In addition, the event managers can also manage external professionals or vendors, such as event planners.
How to Successfully Launch Your Event
Launching your event successfully can be very daunting, as you'll have to consider various things while launching it. This article provides a comprehensive guideline on how to successfully launch your event:
1. Find your audience
The first step when seeking to launch your event successfully is to have thorough research on your target audience. Understand what the prospective attendees like, who they are, and consider their core values. Importantly, think of those audiences who relate easily to your brand story and consider the diversity of this audience to help you boost your event's inclusiveness.
Furthermore, it'll be imperative to consider the location of your prospective attendees. Considering the location will help you get the appropriate way of having the event. For instance, an in-person event will be the best option in a regionalized or small area. Alternatively, you can opt for the virtual format if the audience is widespread, either in the country or worldwide.
2. Develop a unique selling proposition
Creating a unique proposition will be the best way to ensure your event stands out among others. Importantly, you can achieve this by creating a social conscience event suitable for raising money for different programs that your audience likes. Alternatively, you can target a drive-in event for re-uniting communities in disagreement.
Using your USP, you can showcase culinary goodness to the whole population. Sending your attendees real-life ingredients and hosting a virtual tasting session will be the appropriate way to achieve this goal.
3. Consider the pricing
The appropriate way to motivate the potential guests will be to get it right with your ticket fee. Experts recommend considering what the attendees are willing to pay when determining the right price. Additionally, also consider the price your competitors are offering for similar events. You can consider the tiered pricing for more pricing options, including paid, free donations, or VIP tickets for prospective attendees who can afford to pay the extra cash.
4. Set a realistic and achievable budget
Setting the budget is an important aspect when planning and launching your event. When setting the budget, combine all the fixed costs like hiring the venues with variable expenses, such as food and staff. Importantly, also consider the ticket pricing and market size when setting the budget.
Writing down your ideal worst-case and ideal budget scenario is vital to help you stay on track. It'd help if you didn't forget the cost-cutting measures on the budget, such as considering a virtual event to help save the venue hiring fees.
5. Create a support network or team
When launching your event, you'll require some help from other stakeholders to ensure it's successful. The stakeholders can be your friends, sponsors, existing audience, or family members, which you can easily reach out to too quickly. These stakeholders will play an essential role in assisting you with the different activities, like boosting your budget through donations or enhancing ticket sales.
In addition, you can strengthen your relationship with the social media audience to attract more events to your event. Lastly, you can contact potential sponsors or exhibitors for help in various activities and equipment necessary for your event.
6. Embrace online platforms
Considering online platforms for your events will be appropriate to create more awareness for a larger community. The community might be potential attendees from different parts of the world. You can sign up for free at various online platforms and add personalised videos and imagery or engaging descriptions to entice more attendees. Notably, the online platforms also help you save more time by providing a faster registration and provision of your customer database.
7. Consider the savvy marketing strategy
Savvy marketing will be a significant component when successfully launching your event. This marketing strategy involves SEO, influencers, emails, and social media to market your event. It'll be essential to consider your target audience when looking for the proper marketing forms for your event. You can reach the potential attendees using the appropriate targeted email campaigns or paid social ads.
8. Focus on your experience
The guests or attendees will want to get the best experience, as it creates a long-term relationship with your event or brand. Choosing the best features and technology will be vital to create a long-lasting memory for the attendees or audience.
You can use virtual reality and augmented features when launching the event to help build a wider space around your event. In addition, it'll be imperative to take time and consider the appropriate video hosting platform to suit the needs of your digital audience. For instance, you can use Vimeo for chat boxes and interactive polls or Zoom for a highly secure URL.
9. Embrace more improvement
When looking to launch your event successfully, it's imperative to keep on improving on the different features and programs. Always consult or keep in touch with prospective attendees to consistently share your event's content on different media and platforms. Furthermore, seek their feedback to establish a further plan to make your event bigger and better.
Summing Up
Planning and executing your event can be challenging and intimidating due to the numerous things you must consider. However, event management offers the best solution that helps you to ease the event planning process and provide the appropriate chance for launching and hosting a successful event. The above provides guidelines on event management, what it is and how to launch your event successfully.