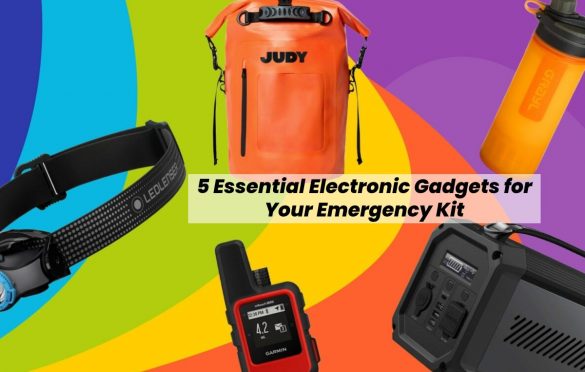 5 Essential Electronic Gadgets for Your Emergency Kit
Electronic Gadgets – When health advisories, storms, and power outages leave you stranded, having an emergency kit on hand can prepare you for the worst. While bandages, a manual can opener, and non-perishable food certainly deserve a spot in your emergency kit, having essential electronic gadgets in your kit provides you with a light source and access to power and information.
Here are five essential electronic gadgets to help you navigate various emergencies. Add them to your kit, so you have less to worry about and more to help you when the unexpected arrives. 
1. A Hands-Free Light Source
During an emergency, it's all hands on deck. Holding a flashlight means fewer hands available to help. Using an LED headlamp means you have use of both your hands and a powerful light source. 
If you have a power bank for emergencies (more on this in a moment), using a rechargeable headlamp is even better. You can use the power bank to recharge the light via a USB-C port if it runs out of power. If the headlamp comes with rechargeable batteries, you can recharge them and use them in other battery-powered devices when you don't need the headlamp. 
2. A High-Capacity Power Bank
If you're going to add electronic gadgets to your emergency kit, you'll need a reliable way to power them. Other than rechargeable light sources, high-capacity power banks can also charge laptops, phones, handheld gaming consoles, and similar devices that can help you during unexpected situations. 
It's best to use a high-capacity power bank for emergencies. High-capacity power banks charge more devices, recharge multiple devices simultaneously, and charge high-power devices. Another benefit of more-capable power banks is that most of them come with several charging options, such as using a car battery or via a solar panel.
3. A Handheld Radio
You may have to go old school to stay informed during an emergency. Rather than rely on your phone or laptop, use a portable transistor radio to tune into local radio stations for updates, road closures, and other vital details.
While shopping for a handheld radio, keep a few vital features in mind. For one, it's good to have a radio that's small enough to fit in your hand, so it doesn't take up too much space in your kit. The radio should not only tune into AM/FM stations, but also National Oceanic and Atmospheric Association channels. Some radios even draw power from the sun through solar panels.
4. A Portable Car Jump Starter
When a car emergency leaves you stranded in the middle of who-knows-where, having a portable car jump starter in your emergency kit can cut your emergency short. Even if you keep jumper cables in your car, you'll need to wait until another car drives by before you can use them. Portable car jump starters let you start your car without delay.
5. Rechargeable Batteries
A power bank, no matter its capacity, may not power all the gadgets you'll need during times of crisis. For devices that run off traditional batteries, use rechargeable batteries instead. Rechargeable batteries are more convenient because they perform better than traditional batteries.
During an emergency, it may not be safe or possible to travel to get extra batteries. If you have rechargeable batteries in your emergency kit, getting extras is as simple as charging batteries that have lost their juice.
Rather than try to account for every crisis, focus on keeping your emergency kit stocked with useful gadgets that help you weather any storm, chemical spill, earthquake, or other emergencies. A single piece of electronic equipment can help you maintain your sanity, safety, and peace of mind.