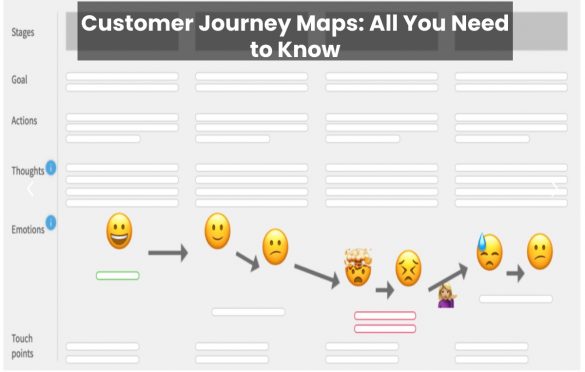 Customer Journey Maps: All You Need to Know
Customer Journey Maps appear easy on the surface: you offer a product, and they buy it. However, if you look closely, you'll notice that the client journey is growing increasingly complicated. Digital advancements are altering customer expectations, with the average consumer now communicating with enterprises over multiple channels. All of these interactions contribute to more complex client journeys, and difficulty in providing consistently excellent service.
Nonetheless, the importance of a positive client experience cannot be overstated. Customers in the UK expect their customer experience to be linked to the products and services they are interested in; therefore, businesses must go above and beyond to satisfy these expectations and create a smooth customer journey.
The first step towards doing this, by understanding the customer's mind in detail, through customer journey mapping.
What are Customer Journey Maps?
A customer journey map is a diagram that depicts the customer's journey (also called the buyer journey or user journey). It assists you in telling the tale of your customers' interactions with your brand at all touchpoints. Whether your consumers communicate with you through social media, email, live chat, or other methods, visualising the customer journey ensures that no one falls through the cracks.
This technique also aids B2B executives in gaining insight into typical consumer pain spots, allowing them to improve and personalise the customer experience. Simply put, customer journey maps can be understood as research-based tools that design teams use to depict the numerous aspects and factors that go into typical customer experiences over time. These allow brands to have a better understanding of their target audience.
How does One create a Customer Journey Map?
The customer voyage is the series of interactions that a customer has with a firm in order to reach a goal. There are frequently many and various steps in between generating brand exposure via social media and receiving an email following a successful transaction. It's not something you can guess, or forecast based on your own thoughts. The physical experiences that your clients have are particularly distinctive to a customer journey.
As a result, the greatest method to learn about your clients' travels is to ask them about their experiences directly.
Therefore, tasks and questions about how a design meets or fails to satisfy customers' needs over time when they encounter a product or service must be carefully examined. Customer journey maps depict timelines with extensive information illustrating significant subtasks and events, along with insights into what customers think and feel as they progress through the timeline.
Here are a few broad steps to creating a customer journey map:
Step 1: Make a list of all conceivable customer touchpoints, such as a website, social media outlets, and interactions with marketing and sales.
Step 2: For each buyer profile, create user journeys across these multiple touchpoints. For example, a millennial buyer persona may first learn about a product on social media, then investigate it on your mobile site before making a purchase on a desktop computer.
Step 3: Incorporate the customer experience into the customer journey map at each touchpoint. This could include what the customer needs to do and how your brand reacts.
The Four Main Application Areas of Customer Journey Mapping
Taking a look at where your client journey is right now
Recognize and diagnose the specific challenges that have arisen as a result of recent events.
Recognize how your customer journey should progress in the future.
Create new experiences by designing, redesigning, and repurposing existing ones.
Blueprints
Build well-designed frameworks necessary for the implementation of change.
Communication
Bring together teams to train and scale excellent practices.
Why is Customer Journey Mapping Important?
A customer journey map helps an organisation understand how a customer interacts at different stages of the customer lifecycle, as well as the roles and responsibilities of the many teams responsible for delivering that experience. By creating an accurate customer path map, your customer support team will be able to focus on more particular concerns rather than dealing with issues caused by a less-tailored customer journey.
It's a strategic strategy to better understanding consumer expectations that's essential for improving the customer experience. According to fresh research, 84 percent of customers believe that being treated as a person rather than a number is critical to winning their business. Customer journey mapping enables SMEs to develop personalised experiences for each customer across all touchpoints and media.
It will also bring a company together and develop empathy and collaboration among teams because everyone in the company will know what is expected of them in order to produce the experiences that customers want. This will aid in the development of a shared sense of ownership of the customer relationship, which will ultimately lead to the creation of a customer-centric culture.
Customer Journey Mapping Can Transform Your Customer Relationships! Get Started Today.
Customer journey mapping can help you improve the customer onboarding process and compare the customer experience your customers want to get with what they actually get. You'll also be able to recognise the differences in buyer personas as they progress through the buying funnel from prospect to conversion while placing your buyer's journey in a logical order for future assessment.