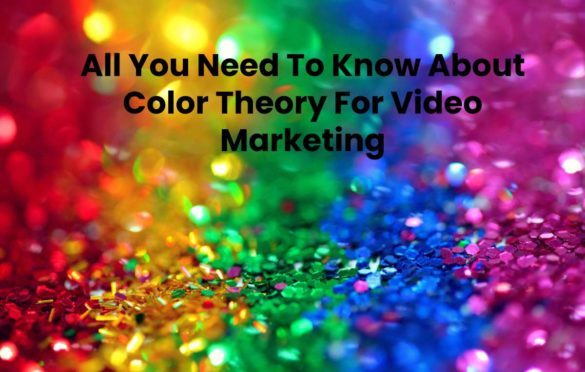 All You Need To Know About Color Theory For Video Marketing
Color – a simple word, but has many roles to play. Whether it is television or films, color is the key to the right tone and mood. The same applies to video as well. To send your message properly and make it attractive, you need to choose the proper color. The poor color will make a bad impression on the spectators, making them leave in the midway. So, what will you do? Get the fundamentals of color theory. This is because only selecting the right pastel color is not enough. You have to do much more than that to make the videos appealing to the audience.
Understanding Color Theory
From the time of the Renaissance, people started to understand how to mix and match colors to give a certain effect to a product or picture. But scientifically, the color theory came into being in the early 20th Century. Albert H. Munsell built it according to the lightness and hue of each color. Though no particular principle is there, some basics will help you understand how one color looks with another and what mood each color sets.
We know that the video editing process is a meticulous job and requires care with every step. For this reason, it is necessary to have a sound, reliable video editor that lives up to our expectations.
Understanding the Color Wheel
In 1666, Sir Isaac Newton created the color wheel. Since then, arts schools, artists, video file makers, and graphic designs have been using it. This circular diagram of color is based on the use of primary, secondary as well as tertiary colors. While red, blue, and yellow are primary, orange, green, and purple are secondary.
When it comes to video marketing, you need to pick those colors which have a soothing effect on the minds of the audience. It should neither be boring or too loud.
Choosing Warm and Cool Colors for Videos
Red, orange, and yellow are considered warm colors, whereas purple, blue, and green are cool colors. Both cool and warm colors go well together, but mixing them too much can be messy. It is wise to stick to only 2-3 colors to give the most appealing effect to the video.
Using Contemporary Colors Is a Great Idea
To give a contemporary yet opposite effect to your video, you can combine red with green and yellow with blue. You can use one color as the backdrop of the site and another to highlight the main things.
Analogous Colors for a Perfect Balance
The specialty of analogous colors is that they come with 3 colors situated on the color wheel next to each other. The dominant color is in the middle, while on both sides, two different colors make the whole thing utterly attractive and balanced.
Triadic Color Scheme – Favorite of Marketers
Do you want to use the most popular color scheme for your video? Then opt for the triadic scheme where three colors are at an angle of 120 degrees from one another. As a marketer, use one color in the backdrop, the second one for content, and the third one to highlight the important things.
Monochromatic Color 
If you are fond of single-colored videos, then opt for monochromatic color palettes. Keep the base color as you like and use some shades or tints of similar color to make it attractive. To make tints, you can add white with the base color while adding black with the base color to make shades. Adding a gray color tone is also useful. Though this particular color scheme is quite pleasant for the target audience, it can turn out to be monotonous and dull if you do not do it aptly.
Enhance conversion using Color Contrast 
By choosing an appropriate color contrast, you can draw the attention of your target clients to a particular product or page or even to the call to action. Thus, the right choice of color makes the ad campaign much more effective, particularly for conversion.
Colors Connect with Customer's Emotions
Due to the omnipresence of social media, you don't need your clients in front of you for conversation or negotiation. But this can easily be done by selecting a color. Keep in mind that color can evoke different emotions in different people. But in general, blue is the symbol of trust, whereas green signifies expansion and growth. To show royalty or style, luxury brands can opt for gold or silver. Color plays a crucial role in eradicating negative feelings or turn them into positive ones.
Tips for Choosing Colors
 Are you going to tell the rags to riches story in your video? Then choose muted and dark colors at the beginning and step by step to move to other colors like green, purple, and yellow.

If you are creating a video on education-related topics, start with some basic colors, and slowly add more colors to show the expansion of the topic and knowledge. Always change the color to show the transition of the story.

Next is the purpose of the video. What do you want to do with it? To inspire others? To make the audience understand a particular situation? Or you want to sell some products? If you aim to share some useful information about safety or health, always opt for blue. Similarly, opt for red if you want to make them realize how serious the situation is. No color can be better than yellows or oranges to induce positivity and enthusiasm within your audience.

Considering your brand, before selecting the color is vital. Where you want to sue the video? On some branded properties or the site? Make sure the video is either on one page with your site or compliment them nicely.

If you are making the video for selling purposes, always include the color of your brands. This way, your audience can relate the video to your company logo.

Do not repeat colors and stay away from using a bunch of colors as your motto might get lost in the crowd!
EndNote
If you want to build your video around color, then it should meet the expectations of the target audience. Then only your videos will be successful. So, keep all the points mentioned above in mind before using the color theory for video marketing.
KNOW MORE:- heaalthcenter
Also Read: roku write for us