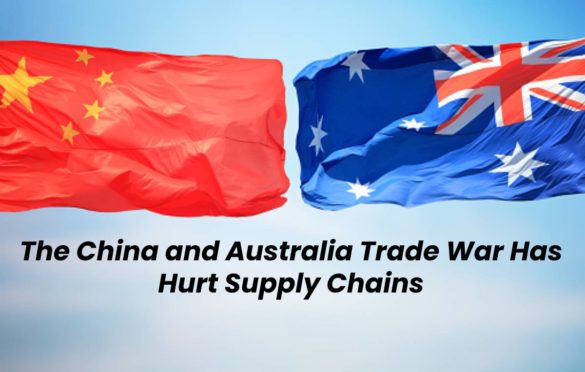 The China and Australia Trade War Has Hurt Supply Chains
The history between China and Australia has been nothing short of a co-dependent relationship. Being the largest exporter of processed goods, China needs a lot of cooking materials like coal, iron ore, timber, etc. On the other hand, Australia has the largest production of fossil fuels.
For a long time, both countries have established a free trade regime between them. A record $252 Billion worth of trade took between China and Australia in 2019. This was 27.4% of Australia's total international trade. Such a trading relationship is hard to come by in this day and age.
Just like our lives, the pandemic began to sour international relations between China and Australia. The trade war took the focus away from the US-China trade war. This started as Australia pushed the World Health Organization to investigate the origin of the COVID-19 virus. China didn't take the stance well, considering how Australia is a country that relies heavily on Chinese investment.
China has recently begun sanctioning and obstructing Australian imports. China has put a massive 80% tariff on Australian barley. Plus has recently bannedseveralsignificant suppliers of grain.You might think hurting the $2.67 billion beef export industry would be enough. Still, China further moved to ban timber exports from South Australia and Tasmania. Besides barley, coal, beef, and timber, China has also enacted tight monitoring on lobster and wine exports from Australia. Resulting inthe delay of the shipment and discouraging businesses from ordering from the rival country.
Impacts on the Supply Chain
There is no doubt that both countries will face the consequences of their shadow war on economies. The impact on Australia might be more visible than that on China. However, both China and Australia's supply chainsare about to face increased pressure in their overall operations.
China will have increased costs, and consumers will have to pay higher prices for agricultural products. The manufacturers will have to fasten up their approach to sustainable production and invest a lot to shift their core. Like most other countries, Australia has most of its manufactured goodsfrom China, as they lag behind in manufacturing. Australia is now looking to set up a whole range of factories. The Government has pledged around $1.5 billion to reshape many of its industries.
It is predicted that Australia will have a downfall of 6% GDP in the coming year. While in China, farmers are finding it hard to cope with increased barley demands and are reportedly shifting towards coarse grains. The price of coal has been snowballing in China and has hit a four-year high. The relationship between the two nations is become increasingly complex and difficult to manage.
Resurgence
With advanced technology and a proactive workforce, Chinese manufacturers can quickly recover from any back draws. China is among the early adopters of new technologies, with continued effort to increase efficiency. Amidst such circumstances, we can safely assume that both the countries will use logistics software and analytics to predict a better path in procuring and shifting their current production way.
The Chinese Government has been pushing for a transition to sustainable growth and development, away from coal and timber, even before the heated trade war with Australian began. Australia has also joined hands with India and Japan for a "Supply Chain Resilience Initiative" (SCRI), that too before the sanctions of trade barriers. Over the coming years, it will be interesting to see whether China and Australia will regain trust with one another and whether trade deals will improve with time.
Author:
I'm Jaylin: guest post service planner of Leelija and full time blogger. Favourite things include my camera, traveling,caring my fitness, food and my fashion. Email id: editor@leelija.com