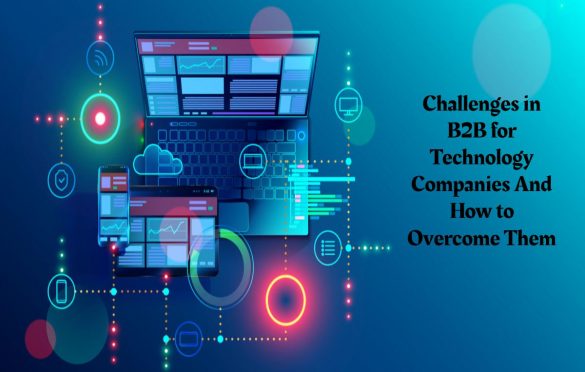 Challenges in B2B for Technology Companies And How to Overcome Them
Every B2B demand generation agency will tell you that when it comes to B2B companies, Demand Generation is a critical activity: keeping a company and its offer fresh in our prospects' minds is essential to initiate dialogues.
To complete the lengthy and complicated sales process, we must first navigate the legal system.
A sound marketing plan, like with other successful marketing approaches, makes all the difference. We must have a clear direction for the actions that we intend to carry out in the future.
But what are the challenges in B2B that technology companies have?
Lack of clarity in the definition of marketing KPIs
If marketing objectives are not aligned with the business and have not been previously agreed upon by top management and sales departments, defining them might be difficult.
It is practically hard to develop a clear strategy that is measurable over time unless this is done first.
Covering all industries with the same message
When we try to speak to all industries in the same way, we make the error of forgetting that the more we understand the language and priorities of the industries we are attempting to target, the easier it will be to develop valuable messages and strategies to reach them.
Suppose I sell technology to the manufacturing business that also happens to be applicable to the tourism industry. The priorities and difficulties for each area, as well as the language and sorts of messaging employed, are completely different from one another.
Too many people are involved in the buying decision process
Currently, an average of 6.8 persons are involved in the decision-making process for purchasing a product. Being able to attend to all of them is practically impossible, so carefully determining which of them are the most relevant is a difficult and time-consuming endeavour, but one that provides significant value in the process.
In the digital age, the purchase decision process is no longer a linear process (Customer Journey)
To design a plan that allows us to provide value in each of the processes our prospects take before making a purchase decision and becoming our costumers, we must first understand the steps, issues, and concerns that they face in their daily lives.
In addition, the vast amount of information that is now available on the internet, as well as the large number of manufacturers attempting to gain attention, makes this procedure much more difficult.
Create valuable content by audience type and vertical/industry
Another problem is developing valuable communications that are tailored to the intended audience (i.e., who do we want to target).
It is also critical at this time to be able to determine where they are in the purchasing decision process.
Because of the incomplete definition of target sectors and key purchasers, it will be extremely difficult to land value messages that are appealing to the target consumers.
Put ourselves in the customer's shoes and listen to them
Our ambition and hurry to sell causes us to overlook something really important: the importance of placing ourselves in the shoes of the customer and understanding exactly what they are seeking beyond a product.
How to overcome these challenges and create a successful strategy?
Define key performance indicators (KPIs) and objectives that are measurable and attainable
Do I want to create a certain number of leads/opportunities each month or year? What kind of businesses and markets do I want to target, and what sizes do I want to target?
Define the target audiences and products that will be promoted
Who are the people who will be my target customers? Who are the industries that I am interested in taking on? What products do I want to put in the spotlight? What is the procedure for making a purchase decision for each of the product lines?
Definition of ideal customer recommended up to 4 people involved in the purchase decision
The following factors are considered: personality type, socio-demographic parameters (age, gender, location), educational level, type of industry, their interests, their professional and personal objectives.
Mapping the customer journey, taking action and developing a plan for each of the next stages of my strategy
Brand positioning and messaging that encourages a prospect to think about my company (without talking about the product). What kind of information is the prospect looking for if he or she is ready to make a purchase? What kind of information should I send them after they have made a decision on my product?
Create a strategy that communicates with individuals who are already my customers in order to increase customer loyalty and keep them from defecting from my company.
The Bottom Line
Demand Generation is not something that happens by accident. Before we can begin to generate interest, we must first develop a procedure that includes all of the necessary stages.