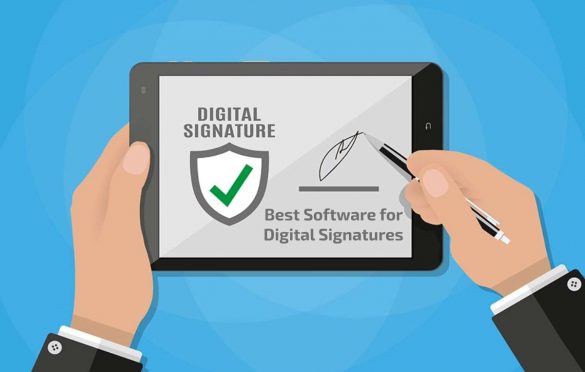 What Is the Best Software for Digital Signatures?
Picking digital signature software isn't as easy as it might seem.
First, there's the sheer number of different providers to evaluate, each with their own feature sets and support packages.
Second, pricing packages vary significantly between different platforms. What might appear to be an attractive monthly subscription for a small team can quickly spiral into hundreds or thousands of dollars as an organization expands and requires additional features.
Finally, terminology can be confusing. In particular, many companies fail to understand the difference between "electronic" and "digital" signatures.
In this post, we're going to cover all these points. We'll distinguish between the two main types of electronic signatures and take a look at four of the top platforms.
Are Digital Signatures the Same as Electronic Signatures?
Although the terms are often used interchangeably, electronic signatures and digital signatures are not the same.
Electronic signatures are digital marks that carry varying levels of security depending on the e-signature platform used to create them. An e-signature is added to a document to represent a signer's consent to enter into an agreement, usually one that is legally binding.
Digital signatures are slightly different. They are a highly secure subset of electronic signatures and rely on complex online technology. Individuals using digital signatures must purchase a digital certificate that enables the authorization of their signatures by means of a public key infrastructure.
Because digital certificates and public key infrastructures leverage high levels of encryption, it is almost impossible to forge a digital signature or fraudulently edit a document after it has been signed.
Do You Need a Digital Signature App?
Unless you are dealing with high-value contracts in a sector that is prone to fraud, or operating in a field that demands high levels of security, such as defense or government, you probably don't need to use digital signatures. Electronic signatures will be sufficient.
While they offer superlative levels of security, digital signatures are costly. Furthermore, only a handful of software solutions provide digital signature functionality.
Electronic signature platforms tend to be inexpensive and include multiple safeguards to ensure signatures are legally binding. Users also typically have access to an extensive suite of time-saving workflow management tools.
Top Four Digital Signature Platforms
Let's take a look at four of the best electronic signature platforms currently on the market:
PandaDoc – PandaDoc is a document management platform that leverages numerous security features to ensure the validity of electronic signatures. While it doesn't include dedicated digital signature functionality, organizations looking to use straightforward electronic signatures with additional safeguards will struggle to find a more complete solution. Users also have access to a myriad of other features, including workflow automation, a document editor, team collaboration spaces, integrations, 24/7 support, and more.
Zoho Sign – Zoho Sign is a digital signature tool developed by Zoho, one of the web's best-known customer relationship management (CRM) platforms. Zoho creates digital certificates and public and private keys using its own technology infrastructure, so users don't require a third-party certificate authority. Pricing packages are transparent and a free plan is also available. The enterprise plan allows for the use of digital certificates provided by leading certificate authorities Uanataca and eMudhra.
Adobe sign – Adobe Sign is a well-known app in the electronic signature space. It supports the use of digital signatures (you will need to purchase a digital certificate) along with standard electronic signatures. Like PandaDoc, Adobe Sign offers several security features to ensure the validity of electronic signatures. Pricing is higher than other similar providers and the cost of enterprise plans is worked out on a custom basis.
DocuSign – DocuSign is one of the oldest electronic signature apps on the market. Most of its plans only support the use of electronic signatures. For a package that includes digital signature functionality, you should get in touch with the sales team directly.