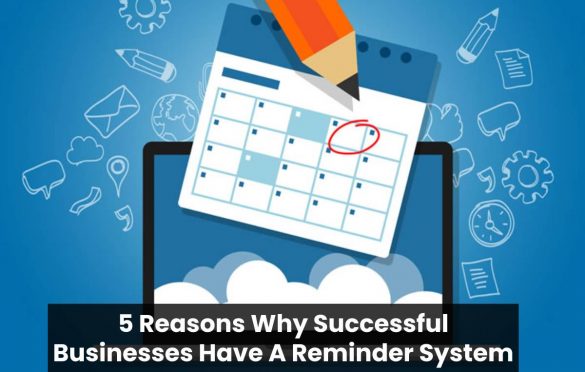 5 Reasons Why Successful Businesses Have A Reminder System
Reminder System – Your clients expect your team to provide reminders so that they can keep track of appointments. Despite our best efforts, it's easy to forget important tasks and deadlines. When you're running a company, these natural flaws of the mind are not as readily accepted.
It's not uncommon for businesses to miss the mark, leaving providers and clients inconvenienced. Missing an appointment and dealing with no-shows are undesirable outcomes. Businesses utilize systems that remind of upcoming appointments and events to avoid setbacks.
Without having to remember things on our own, automatic systems play a critical role in the organization and success of businesses. When a team operates efficiently, the system functions optimally. For more information on why successful businesses use text reminders for appointments, read on for five crucial reasons.
1.  Prevent No-Shows With Text Reminders For Appointments
No-shows are an issue for businesses and clients. Businesses do not want to leave clients frustrated with obligations to pay late fees. The staff also does not want these no-shows to happen because it throws off the workflow.
When you have an automatic reminder system in place, the chances of no-shows significantly decrease. As text reminders for appointments are sent out automatically, informing everyone of each appointment date becomes possible. If cancellations on the clients' end are still needed, they have enough time to do so without late fees.
2.  To Impress Clients With Punctuality And Timeliness
For your business to last, you must keep your clients happy and impressed with your services. By utilizing text reminders for appointments, the business demonstrates punctuality. With automatic notifications, businesses can ensure that their clients will show up on time, benefiting all involved.
3.  Rescheduling Is Made Simple
Upon receiving text reminders for appointments, clients have ample time to reschedule their appointments if cancellations are needed. In this way, the business can still provide the client with a satisfactory experience by giving them more time to reschedule without late fees. The rapport between clients and staff is improved due to these efforts, which supports business relationships.
4.  Management Is Made Easier
Rather than overseeing manual reminders, management can run reports and utilize the reminder system to ensure text reminders for appointments go smoothly. With automatic systems, employees are not reliant on supervisors. Management can oversee schedules directly from the interface.
5.  Your Resources Are Utilized Well
The primary resources of most businesses are the funding, the labor utilized, and the time spent. With a reminders system in place, these key resources are utilized optimally by:
limiting the possibility of lost time
saving money not hiring employees to manage things
ensuring that time and labor is used effectively
prioritizing timeliness
Get A Reminder System and Improve Your Business
The success of a business depends on its organization and workflow. With a reminder system in place, tasks employees must complete and the expectations that clients will follow through on their end are both achieved with greater ease. Improve the success of your business with a reminder system today.